This is an open letter to Debbie North Wife of Malcolm North  mother of Samuel North
Debbie  I am writing to you in the hope that   we may be able to   sort out the bullying which I have been suffering at the hands of you husband and son.
I find it quite Ironic that  you  work for "The New Zealand Association of Counsellors " and are listed as Debbie North membership@nzac.org.nz  on their web site
In 2012  Samuel opened a restaurant Muse on Allen with Jozsef Szekely
Jozsef put in $64,000  and became a 70 % share holder due to the fact that the business had been purchased for $90,000   .
The only equity in the business was  the  funds which Jozsef introduced.
Jozsef and Sam were the only  directors when the company was  formed. You were  to be an alternate director for Samuel   and  you completed your own forms and backdated your directorship  to day one .  If yo were to ask any one at the companies office they would tell you that this is not a lawful  way to do things as you cannot appoint yourself director.
With your son  You then appointed  Malcolm your husband to be a further director  then all three of you  went home and passed a resolution to remove Jozsef as director .
As a director of the company  you allowed Samuel to  transfer all of Jozsefs shares into his own name   without any legal basis  and without the introduction of  further equity into the company .
Court action followed and you eventually resigned as director in  November 2014
Throught this time   and    to this date you have stood by and allowed your son and husband  to bully and abuse both Jozsef and myself.
we have made complaints to the police  under the harmful digital communications act  and   despite the fact that they have been  warned a number of time the abuse has continued
Last Year Malcolm made a complaint against my private investigators licence ,   there was no  substance in his complaint and the authority reported
His vexatious complaints had me under investigation for some 10 months
Now he is sending emails   to  people associated   with my business
From:malcolm@muserestaurant.co.nz [mailto:malcolm@muserestaurant.co.nz]
Sent: Tuesday, 13 September 2016 6:26 p.m.
To:
Subject: Grace Haden

Hello I warned you before Is this the type of person you want in your chapter
Debbie I have had enough of  this .
the three of you have  defrauded  Jozsef  , you have   allowed Muse on Allen to be run into the ground and have left a trail of debts.
Samuel is still driving the  BMW  whihc he purchased using   the money which  he made out of Muse on allen   and he has now transferred the ownership to  Catering limited.
If the police did their job and were not busy   dealing with traffic  the three of you would   beheld fully answerable to the  law .
In my professional opinion and based on the   evidence I have collated I am of the opinion that all three of you should be locked up for defrauding  Jozsef.
I realize that attack is  the best form of defence and that is exactly the only defence which  your son  and husband have
Debbie  how about   some integrity  you work for counselors  how about getting some counselign for your  boys   so that they can see  that what they are doing is  pure bullying  and totally un ethical.
I have communicated my concerns  about Malcolm's behavior to the ministry of social development    I do not believe that persons who practices this level of bullying that  in his private life ,  does not  display those same qualities at work .
PLEASE HELP STAMP OUT BULLYING  AND FRAUD .
Let us play a game of Truth or lies    We won't tell you which is which  But  lets just look at the facts  the following are statements made in the  news item  highlighted above  click here for the article 
"The former Muse on Allen restaurant has been put into liquidation". see the answer here    well that was straight forward enough  but now lets try this one
Owner Samuel North says it is not connected to his new business, Muse Eatery and Bar, on Victoria St.
Lets look at the web page for Muse eatery  lets look at the about page 
do you see what I see ?

On the  home page  we note that  Muse eatery claims to be 
But in the article  Samuel North  claims are reported as
His current business Muse Eatery & Bar on Victoria St was not connected to the liquidated business, he said.

It was owned by Catering Limited, of which he is the sole director.
Catering limited  was incorporated 03 Dec 2015    so   How could  Muse eatery  , owned by Catering limited   have won  the above awards  the news items clearly show that  these awards were for Muse on Allen?
Samuel was indeed very fortunate to have  Sarah Meikle as a friend  see here      read more about her  here Five Minutes with Visa Wellington On a Plate director Sarah Meikle.
the trip advisor reviews  https://www.facebook.com/MuseEateryBar/app/254084314702229/  are   coincidentally all those of Muse on Allen  see here 
I particularly  love the way that in the midst of the article which  claims that "Muse Eatery & Bar on Victoria St was not connected to the liquidated business"( muse on allen )   there are several links  being
READ MORE:
* Cafe Chat: Muse is moving, Wellington Wine, Food & Craft Beer Festival is nigh
* Cafe Chat: Muse's new look
* Restaurant review: Muse on Allen offers five star experience
notable quotes are
"Muse On Allen restaurant has been at the address for three and a half years, but will reopen at 56 Victoria St, formerly home to 3C Bar and Restaurant."

"When the restaurant reopens in the first week of March, it'll be serving lunch for the first time in addition to dinner, with plans for a breakfast service, too."

Muse's new look

Muse's success continues 

Muse has been open for a month at its new Victoria St premises
Now is a good time now to visit Facebook the link is found at the bottom of  the Muse eatery  web site https://www.facebook.com/MuseEateryBar/  keep scrolling
7 April  2016
http://www.wellingtonnz.com/discover/word-on-the-street/see-and-do/circas-triumph-and-a-little-a-muse-bouche/
17 feb    Link  Muse has closed its Allen St doors, and is to reopen in Victoria St.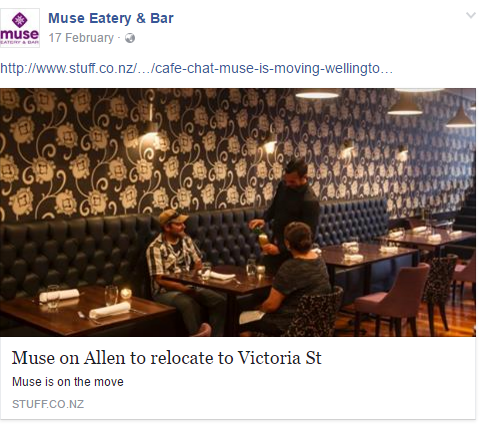 Muse On Allen restaurant has been at the address for three and a half years, but will reopen at 56 Victoria St, formerly home to 3C Bar and Restaurant.
Muse owner and director Samuel North says the new space offers the restaurant a chance to expand its services. 
Since opening the fine dining establishment as a 21-year-old, North has grown Muse into an award-winning success story.
When the restaurant reopens in the first week of March, it'll be serving lunch for the first time in addition to dinner, with plans for a breakfast service, too.
Muse's trademark purple decor will remain, as will its seven staff and favourite dishes such as the beef tartare, tuna sashimi, and creme brulee with doughnuts.
The high-ceilinged, bamboo-floored space in Victoria St is double the size of Muse's original premises  more 
16 February
Back in  2015 we saved the 
Muse on Allen page     the reality is the facebook  pages are the same  they have just been renamed happened when the restaurant shifted
by the way notice anything  about the Logos ?
now look at theat the bottom of this post you can see the  domain names  museonallen.co.nz    is registered at the  domain name registry   and shows this   full record saved for prosperity here "museonallen.co.nz" (Active) _ Domain Name Commission  is recorded to Malcolm@museeatery.co.nz

museeatery.co.nz   is the  web site which   Samuel Norths "new" restaurant uses
Samuel North uses the  email address samuel@muserestaurant.co.nz  his father Malcolm uses malcolm@muserestaurant.co.nz
this is what happens  when you look up muserestaurant.co.nz   or see the preserved  hard copy here "muserestaurant.co.nz" (Active) _ Domain Name Commission
Strangely enough the domain name was registered to Jozsef Szekely   who happens to be the person  who sank his life savings into Muse of Allen before being removed by  Samuel, Malcolm and Debbie north  as a director  see here 
Samuel then  transferred all of Jozsefs shares into his own name   in two steps   here and here   when no  corresponding transaction had occurred in the actual company books  and  when Jozsef was the only person to have  equity in the company see here   this is   why there was a  court  matter  "After court North said his the debt stemmed from a legal battle he had with a business partner when Muse first opened" Jozsef basically took offence to being ripped off to the tune of $64,000.    strange that the bill to IRD is about that size  .. coincidence ?
we do hope that the liquidators  look at the  accounts closely    we are not book keepers  but  the accounts for Muse on Allen  certainly appear to have  more than one issue.
we don't know what you think  but  we are pretty certain that muse on Allen and Muse eatery are one and the same  .
The private security personnel licensing authority is a statutory body which   controls all  Investigator and  security guard licenses
I have raised the issue of the authority not being  qualified   and have requested an  OIA  to establish the legal basis on which the authority claims to legitimately hold office  no response has been received and it now appears that " the authority " is away on leave
The legislation states http://www.legislation.govt.nz/act/public/2010/0115/latest/DLM1594620.html
No person may hold office as Licensing Authority unless he or she

is

a barrister or solicitor of the High Court of not less than 5 years' standing
I Checked the roll of lawyers and could not see Mr Gill's name on it so I wrote  to the law society and got the response that  he had not had a practicing certificate since 30 June 2015
From: Registry Mailbox [mailto:registry@lawsociety.org.nz]
Sent: Tuesday, 16 August 2016 8:35 a.m.
To: Grace Haden <grace@verisure.co.nz>
Subject: RE: registration of barrister
Dear Grace
Mr Roger Bernard William GILL does not hold a current practising certificate.
His last certificate issued by the New Zealand Law Society expired on 30 June 2015.
Kind regards
REGISTRY ADMINISTRATOR
NEW ZEALAND LAW SOCIETY | DD: +64 4 463 2919 | PH: 0800 22 30 30 | F: +64 4 463 2989
26 Waring Taylor Street, Wellington 6011, New Zealand
DX SP20202 | PO Box 5041, Wellington 6140, New Zealand
I again consulted legislation
http://www.legislation.govt.nz/act/public/2006/0001/latest/DLM364948.html
barrister means a person enrolled as a barrister and solicitor of the High Court under or by virtue of this Act and practising as a barrister, whether or not he or she also practises as a solicitor; and, in relation to any country outside New Zealand, includes, for the purposes of sections 49(3)(a) and 53, any person authorised to exercise in that country functions similar to those exercised by barristers in New Zealand
solicitor means a person enrolled as a barrister and solicitor of the High Court under, or by virtue of, this Act and practising as a solicitor, whether or not he or she also practises as a barrister; and, in relation to any country outside New Zealand, includes, for the purposes of sections 49(3)(a) and 53, any person authorised to exercise in that country functions similar to those exercised by solicitors in New Zealand
lawyer means a person who holds a current practising certificate as a barrister or as a barrister and solicitor
http://www.legislation.govt.nz/act/public/2006/0001/latest/DLM365726.html
21 Provision of legal services
(1)A person commits an offence who, not being a lawyer or an incorporated law firm,—
(a)provides legal services in New Zealand; and
(b)describes himself, herself, or itself as—
(i)a lawyer; or
(ii)a law practitioner; or
(iii)a legal practitioner; or
(iv)a barrister; or
(v)a solicitor; or
(vi)a barrister and solicitor; or
(vii)an attorney-at-law; or
(viii)counsel.
From the Law society web site
http://www.lawsociety.org.nz/practice-resources/new-zealand-law-society-guide-for-new-lawyers/becoming-a-lawyer
Who is a "lawyer"?
 A lawyer is a person who holds a current practising certificate issued by the New Zealand Law Society. Lawyers practise either as a barrister and solicitor or as a barrister (sometimes called a "barrister sole").
Anyone providing certain legal services who describes themselves as a "lawyer", a "barrister", or a "barrister and solicitor" but who doesn't hold a current practising certificate commits an offence against the Lawyers and Conveyancers Act 2006 ("the LCA").
If you have been admitted as a barrister and solicitor but do not hold a current practising certificate, you may refer to yourself as an "enrolled barrister and solicitor of the High Court".
Going back to the definition in the pspla  act
No person may hold office as Licensing Authority unless he or she

is

a barrister or solicitor of the High Court of not less than 5 years' standing.
Since Mr Gill is not a lawyer  he is not a barrister   he has no statutory obligations to the rule of law  and is also  not an officer of the court ,  statute states that he is to be a barrister or solicitor. so  what  implications does this have on  the enforcement of the Private security personnel licensing act ?
can some one  without  the legal standing to be the authority make decisions on the suitability of   Security guards and Private investigators suitability  to hold their  jobs ?
Are the  decisions Roger Gill  has made since  30  June 2015 a ultra vires ? and therefore void ?
Will we re write legislation to  cover this glaring  non compliance with statute ?
I Raised the issue with the ministers. I now note that Mr Gill is away until the end of the month.  strange that when so many  licences come up for renewal in August .
His deputy  Stevan Cole was  the deputy  he has since become a community magistrate   it would appear that no one has been appointed as deputy  therefore   it seems like there is no Legal "authority"
How the Authority is chosen

The Authority is appointed by the Governor-General on the advice of the Minister of Justice. They must have at least 5 years' experience as a barrister or solicitor of the High Court. Appointments to the position are for a term of 3 years, and a person may be reappointed.

The current Authority is Mr Roger Gill. source  ( note how the justice dept  gets their definition wrong  the operative word IS  is missing  )
Mr Gill is a qualified lawyer and has 16 years experience as a Chief Executive of four national organisations, including the Investment Savings and Insurance Association of New Zealand and the New Zealand Stock Exchange. For the past 12 years Mr Gill was a Registrar and Manager of the Wellington High Court.
.  source 
Roger Gill of Kapiti has also been reappointed as the Private Security Personnel Licensing Authority for a term of three years. The Authority considers applications for licences and certificates for people working in the security and private investigators industries.  source
more info on Roger Gill  
Roger Gill of Kapiti has also been reappointed as the Private Security Personnel Licensing Authority for a term of three years. The Authority considers applications for licences and certificates for people working in the security and private investigators industries.
Ultra Vires   Latin for "beyond powers," in the law of corporations, referring to acts of a corporation and/or its officers outside the powers and/or authority allowed a corporation by law.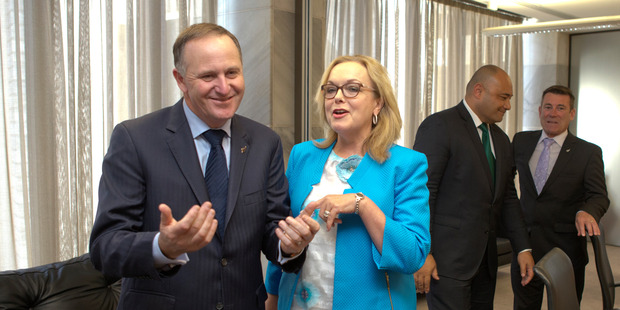 This post is prompted by the  Editorial: NZ needs to assure world of trust scrutiny.
It is one which I will forward  along with  other blogs to international agencies who may wish to question  how  one of the worlds least corrupt countries  can make this claim and I wish to reveal how trusts work in New Zealand
In 2006  I questioned the lack of existence of  trust , this trust just happened to be  one of two private law enforcement agencies, this trust  the animal welfare institute of  New Zealand  (AWINZ ) taught me all you need to know about NZ  trusts  and how loosely they operate
AWINZ operated  as an equivalent to the RNZSPCA  and enforced animal welfare law ,  It had  powers of search and  the ability to seize some ones prized pet .
I was asked the simple question , who is AWINZ ? when I discovered that it was nothing  but a sham  and  questioned the existence of a sham trust being a law enforcement authority  I was immediately sued,  denied a defence  and   was told to pay some $100,000  dollars to the  person who wrote the animal welfare bill and  was independent adviser to the select committee  in the process of making his business plan , law .
He then made an application , which in my days  as a police officer would have been considered fraud . ( this is due to the fact that the claim that  AWINZ  was a trust was totally false  the application made 22 November 1999  predated  he formation of any organisation  by that name  the earliest trust deed and one which Mr Wells relies upon was  dated 1.3.2000  and even those persons never met  or passed a resolution )
I have  for years  been beaten up   for blowing this whistle. Below I have a list of links of how I have beaten my head against a brick wall for many years  but for now I will reveal how New Zealand trusts work
 You need a trust deed  .. it doesn't matter when you sign it  or who signs it  as  long as there is a deed a bit of paper which looks convincing.
no one enforces the deed, no one cares if the so called trust  complies with its deed
If you want a new deed  you simply  write a new one and refer to an earlier deed which may or may not have existed  , Ird  does not care  I  rather suspect that most people at IRD are number crunchers and done understand the legalities of dates names and real persons  being involved in a trust .
there is more information on the deed with regards to the  identity of the  witnesses than  with regards to the  the trustees.  you can use generic names  and who could ever identify  the trustees
if a trust does not  meet  or hold any assets  or pass  any resolutions it is still considered a trust  and its identity can be used  to interchange with any other trust ( real or fictional )
the charities commission  are happy to grant charity status to anything  whihc meets their criteria , the fact that  there are no resolutions for the trust and  big gaping holes in   their existence is but a technicality
Let me explain in terms of the AWINZ  trust
As stated earlier Neil Wells a barrister at the time  made an application for law enforcement powers for AWINZ  he claimed on 22 November 1999 that a trust had been formed

No  executed trust deed existed and these people had not formally met together  or passed  any resolution
Maf and The dog control section of Waitakere council had signed agreements with the representative of AWINZ:- Neil Wells
in 2006  Neither MAF nor Waitakere city council had a trust deed or had seen one : basically no one had checked  the existence of AWINZ
when I proved that AWINZ did not exist  ( charitable trusts need to be registered ) a trust deed materialized dated 1.3.2000  whihc brings about the question how can  you make an application before a trust is  formed. ?
I was to get evidence that these people had never met   never held any assets , never passed a resolution.
By the terms of the deed the trust ceased to exist  three years after it was formed, continuance depended on reappointment of trustees and since they never met no one was  reappointed.

Wells sought charitable status in 2006  when new legislation came in. IRD rejected the trust deed   so he simply wrote a new one  and they claimed to be a continuation of the bogus 2000 trust 

this was totally acceptable to the lawyers charity commission and  MAF ( and later the government )
AWINZ was finally removed as  approved Organisation in 2010  .  the fictional  law enforcemnt organisation  operated  for  10 years  re branding council property  and using the  Council staff under Neil Wells control  as AWINZ officers  .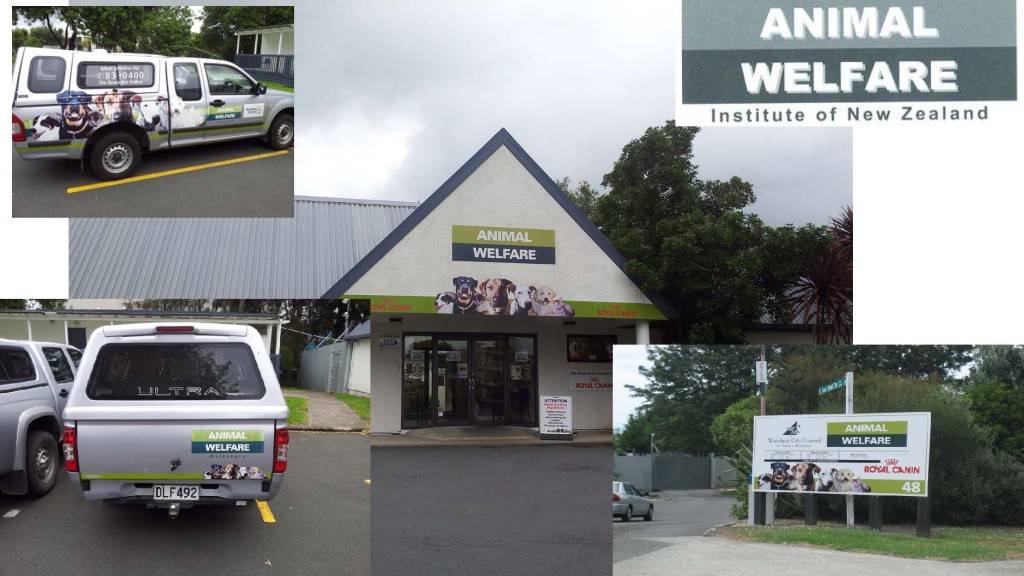 Neil wells still consults for government and makes submissions  strange  that he does not refer to the 10 years where he was the only person involved with AWINZ
this is how what I considered to be a fraud  worked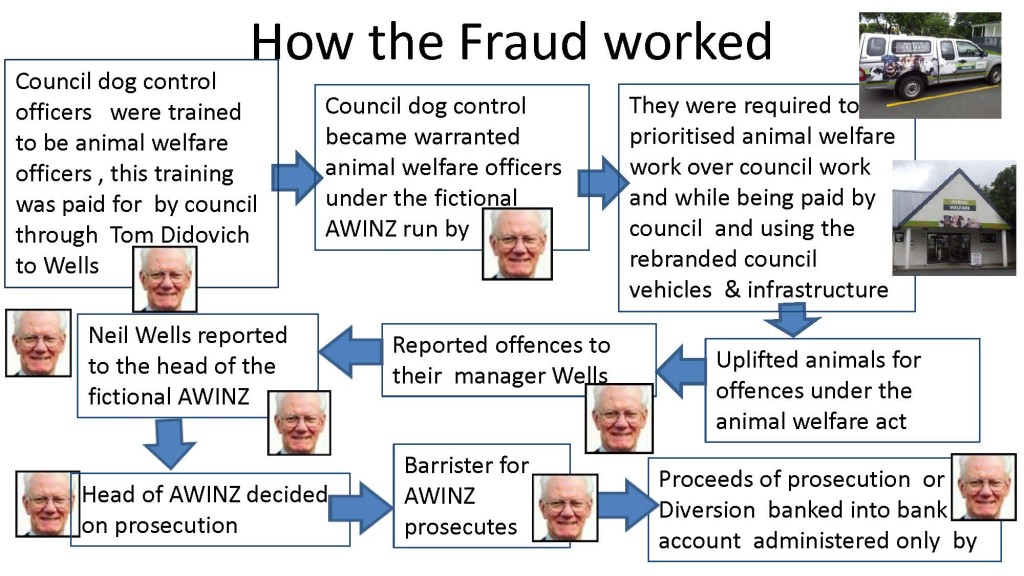 I have brought it to the attention of the prime minister , Transparency International NZ , Auckland Council  and again here , here , here, again here ,    here, here , here ,Auckland Mayor, the CEO of council , council lawyers and again here  and here  , here, here.
I have written to the lawyers involved and again here  and here, here, here , the law society by way of  regarding the lawyers  , the charities commission  and again here   and here
Maf and  now the ministry of primary Industries  repeatedly fobbed me off and actively concealed the fraud, after all they never checked to see if the trust existed before supporting the application for law enforcement status , I was later to find that the current lawyer for Maf was involved int he process earlier on when he was  working for crown law  so I guess his own work came under scrutiny therefore    concealment of the fraud was an act of self defence  complaints to Maf Here  , here, here , here, here,here, here, here and here
The people posing as trustees  here, and here,here, here
attorney general  here
I had questions asked in parliament  Here  wrote to ministers  here  and here 
notable blogs of the past   touching on the  corruption which  exist in New Zealand
Conclusion  :  Fraudulent trusts are condoned in New Zealand , I was silenced because I was exposing how slack our trust  administration was .
more to come   Court is used to   silence exposure of abuse of overseas trusts
The reason that our company and trust structure is  so well liked  is  because  THERE IS NO DUE DILIGENCE DONE BY THE  REGISTRARS OF  NEW ZEALAND COMPANIES  AND  TRUSTS ARE NOT  RECORDED.
ADDITIONALLY
Few realize that  our trust and company structure is actually most abused through lawyers who in turn are  protected by  our courts .
I am a whistle blower on  the corrupt use of trusts , I   thought that in this country which at the time prided itself to be the least corrupt  that I could say   " hey guess what  the law enforcement agency  The animal welfare institute of New Zealand  does not  exist at all "  what happened? lawyers got together   sued me for  a ridiculous sum  tried to bankrupt me  and  tried to put my company out of business. they were protected by their own society   and the judges who were once members of that very society.
I have come to realize that the biggest gang in town  are the lawyers.    Its like complaining about  a gang  member and then being told to speak to the gang  leaders if   you feel there is a problem   . If it is some one they want to dispose of  it will be useful to them  but if the person is in the " in crowd " and their activities make the gang look bad  then there is a huge cover up.  I have even had instances where he judges  have gone  way out on a limb to  silence the entire matter  one of those instances was  with regards to a well published Russian lawyer  who was up  to his neck in  trust companies  such as those refereed to in the panama papers.
Just recently I assisted a young man who had had all of his  shares fraudulently transferred from him and  into the name of his business partner the minority share holder .Effectively  he had his business stolen from him . We managed to get a lawyer  appointed for the company who was taking instructions from the very person who  was involved in the theft of the shares.  I told the lawyer for the company that he had a duty to be independent  ie act for the company and  to act according to  the rules and could not condone the   illegal activities of the company.  The result  :-the lawyer  made false complaint  alleging  that I was in contempt of court and had committed  blackmail  when I  wrote to him and pointed out this section of the law  I was promptly taken to court for harassment In Wellington when I lived in Auckland . The date of the hearing was conveniently left off the papers I was served  and the evidence  is such that I am convinced that the court, the registrars and the lawyers  all  conspire together to   ensure that lawyers make a healthy living and no one dares question their activities.
As a result I now have a legal bill.. yes their fees   of over $6,000  . I have a solution  I will be  selling  an e book exposing their tactics of winning  and every cent that I raise will go settling this " debt"  if there is interest  I will simply sell more copies . I suspect that   with the  publication of the panama papers this  e book  could be quite popular as the  companies  legislation abuse and the manner  in which some  law firms condone  unlawful transactions  is central to makign the company structure in NZ a mockery
New Zealand is far more corrupt than you  can imagine.
any one wishing to  receive a copy of the  e book    can pre order shortly
Hot off the press  we have  an article in the herald
the story comes from  the  international consortium of investigative   journalists
they publish a video  as below
You will note that the video mentions "MOSSACK FONSECA"
New Zealand  appears to have its very own branch of this company   see here
the share holder of this company is 
BENTLEYS NZ TRUSTEE LIMITED
  BENTLEYS CHARTERED ACCOUNTANTS, Level 13 Dla Piper Tower, 205 Queen Street, Auckland, 1010 , New Zealand. the ultimate owners of this 2014  trust company are its two directors
Nicolaas James DEN HEIJER
3 Centaur Close, Albany, Auckland, 0632 , New Zealand
Roger John THOMPSON
260 Victoria Avenue, Remuera, Auckland, 1050 , New Zealand
they were directors in
Staples Rodway
   but resigned on 8 august 2014 the  date  when Bentley was set up and became  share holder in the following companies
There are 101 companies registered to the address of  Bentley accountants see here   many appear to be trust companies  held on behalf of  foreigners.
among those   is the Orion Trust (New Zealand) Limited.  which is mentioned in this article  by Naked capitalism Mossack Fonseca: The New Zealand Connection
The Benley group of companies is not the only group involved in international trusts    the journalists at naked capitalism identified NZ's role in UnaEnergy Trustees Limited
Naked Capatalism raised the point that
New Zealand-based "foreign trusts" have been actively marketed overseas for benefits including their exemption from New Zealand tax on foreign sourced income, minimal compliance and reporting requirements, and no requirement for public disclosure of the beneficial owners.
As Transparency NZ has noted the  apparent lack of  requirement to comply with he companies act must also be a benefit  s illustrated  with the Muse on Allen Saga
more on Mossack Fonseca
Giant leak exposes global array of crime, corruption        https://panamapapers.icij.org/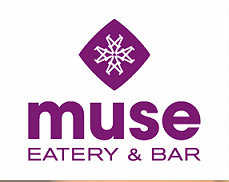 Muse Restaurant  also known as Muse on  Allen is about to morph  into an alter ego  Muse eatery & Bar
The transition is  mainly due to the fact that the  shareholding  in Muse on Allen Limited  was unlawfully obtained by Samuel North  by simply accessing the the company register and transferring the shares to himself   and again here  the law is quite specific about this  process but  Samuel simply ignored the law  and  used a computer to  unlawfully transfer  the shares.
Samuel is quite  aware of what he has  done ,  there have been many admissions including repeatedly telling the court that   the shares were transferred  "in error'  despite the claim of " error " nothing has been done  to  correct  it in 3 years and the  accounts continue to show that  Samuel has no equity in the company  despite claiming to be the majority share holder
Muse eatery is now trying to get   a liquor licence for the new premises at 56 VICTORIA STREET.  the web site has been  linked to the new domain name museeatery.co.nz which opens to the   url http://museonallen.co.nz/.
The content of the web site is that of Muse on Allen  and the content is the same  Muse Eatery media.
Concrete evidence that  the new company  catering Limited has adopted the name Muse eatery  is in the application for liquor licence Alcohol Application – Muse Restaurant, Ground Floor, 56 Victoria Street, Wellington Central  which a number of persons have opposed .
so between the names Muse restaurant  and  Muse eatery the  public are being asked to accept the new restaurant as a continuation of the old  while Samuel North uses up the  money from the sale to ensure that the   person who put all his money  in the restaurant   is left totally out of  pocket .
we can only appeal to the public that if they believe in fairness and honesty then they should  give Muse Restaurant, Muse eatery& bar    or what ever it is called this week , a wide berth .
Our  view is  yes  to both  depending on who you   are
Please click on  the link above or here   to  make a submission  prior to  Monday  1 feb http://www.parliament.nz/en-nz/pb/sc/make-submission/0SCHE_SCF_51DBHOH_PET63268_1/petition-of-hon-maryan-street-and-8974-others
Submission of Grace Haden
I am a former police officer and work as a private investigator.  I have been sued for speaking the truth on corruption. My marriage was attacked   and all sorts of cruel legal tactics came into play.
Things became so bad that at one stage I considered suicide and therefore believe that I am qualified.
Legal tactics include attacking a person's character and reputation , I considered myself as a strong person but  the years erode your strength and  you are repeatedly  portrayed as a  sinister being  when  in reality you are the opposite.
I have often wondered how many people who are involved in litigation ae pushed over the edge , there are no   apparent surveys done on this , no public money is made available. Yet for those  who drown  we have  bucket loads of  research  and we actively  strive to reduce the  road toll  and enforce all sorts of measure and throw   tons of money at  prevention.
The  annual road toll  and he  drownings   are far smaller than the annual suicide rate.  And let's not forget that some of the figures in the road toll and drownings   will be suicides .
On the one  hand  our society   is reckless with regards to suicide  and  encourages those who are healthy but stressed  commit suicide because of the apparent lack of  justice while those who have no hope of  ever living a life without pain and suffering are denied  this right  due to lack of  physical capacity.
In our current  civil litigation system  there is "a win at all cost mentality" this takes no consideration of a person's mental health and wellbeing  and is aimed to  ensure  their  entire  life collapse around their  ears  and isolate them from support and loved ones , even he very strong will   eventually feel that they  are just a very bad person ..  these are mind games
For the past 10 years I have studies the tactical  methods  which seek to bully and undermine  good people involved in the  judicial system  part of this is  giving them an appearance in the eyes of others to be   sinister  and when the court supports  the opposition  few will  believe that   this person is a victim of   a screwed up justice system which relies on ancient protocols instead of  evidence.
If we   were to interview the relatives and friends of  a suicide victim I believe  that   a disproportionate number of  incidents would  show  some kind of legal issue in the  background.
Our primitive justice system does not consider  emotions   and the civil jurisdiction  does not have  to comply  with  the rules of fairness like our criminal jurisdiction does.
On the other hand those who  live life without hope and lack the capacity to take their own life   but have the mental capacity to know that future life  is futile and will not improve  must sit and wait till  nature takes over.
If you have a pet and allow it  to continue to live  in those circumstances you would be prosecuted  under the animal welfare act
If you have a  pet and bully and torment it  so that it shys away from others   and finds itself unworthy  you could also  face prosecution  but these tactics are totally acceptable  if the victim is a human.
The reality is that we would have far more rights and protection if the animal welfare act was to apply to us
Those with a terminal illness have a right to die, those  facing litigation should not be pushed into it
We need proper research into the causes of suicide and we need to have as much money spent on suicide prevention as we spend on the   reducing drownings and road toll  and if the government  will not fund lifesaving medication  for  those suffering illness or if no remedy is available  they should not   be forced  to   die a slow agonising death
Amazingly such an approach will actually  reduce our suicide rate  by keeping healthy people alive  and allowing those terminally  ill  the right to die .
I wish to be heard  on my submissions
Transparency International  has just published the corruption index for 2016 and it would appear that  NZ is  on the downward slide
The herald reported in an article headlined
Stonewalling and strange deals: Has NZ become more corrupt?   that New Zealand's public sector is the most corrupt it has been in almost 20 years
On the other hand we believe that    the  public sector is very corrupt  but   we are now getting more exposure on  that which has  previously been carefully  concealed.
Transparency Intentional New Zealand  published a Media Release Document  in which Susan Snively states
"Our government must act immediately to reestablish New Zealand's stand-out reputation for a trusted public sector". says Transparency International New Zealand Chair, Suzanne Snively. "New Zealand trades on its corruption free reputation."
Snively's comment proves  the   short sighted focus of Transparency International New Zealand  inc of keeping   the  corruption free appearance alive.
We can only hope that    Transparency International NZ is encouraging  our government to take a hard line   and  enforce  the law against those who are corrupt rather than  pretend it is not happening.
We support Transparency internationals statement that " Not one  single country anywhere in the  world  is corruption free "  so why does Susan Snively   wish to give  New Zealand the apparition of  being corruption free?   As an economist  she apparently  sees this as a good move for the economy.  We  see her efforts as  encouraging the  concealment of  corruption  there by making the country  a very dangerous place to trade in .
There are two ways to improve the  corruption perception index
convince every one that there is no corruption by suing those who  are whistle blowers  or  show any hint of exposing corruption .
 prosecute  those  who  engage in corrupt practices  so as to  discourage others.
From and economist point of view it is much cheaper to conceal corruption  and  in New Zealand              transparency International NZ incorporated in our opinion  appears to play  a vital role in the concealment of corruption  as  its members  include  the  very Public sector  agencies  whose performance is being rated.
We encourage the truth   and transparency when it comes to corruption   but Transparency International NZ 's Susan Snively  appears to have  a severe conflict of interst   see www.kiwisfirst.com
What does Transparency International – New Zealand Know about corruption ?