When the mandates came in and many were denied access to cafes and the usual gatehr ing places people started having picnics in Farndon park
Farndon is half way between Napier and Hastings and the people who met there are all inclusive some vaccinated some unvaccinated all seeking support and friendship without a political agenda.
The group is not defined by any manner or means or membership its simply random members of the public who enjoy the company of other random people , it is a life save for many and fabulous friendships have formed.
Out of the blue at the end of january Mr Gavin Ashcroft approaches a lady who has done much to introduce the people to each other and foster friendship . he leaves it uncertain as to what is happening and she writes to him requesting what rules, laws, etc are around the use of the park and Gavin Ashcroft replies as shown here
Believing that it is very wrong for the public to be charged for using a public park I sought information through FYI Terms and conditions for using Farndon park
as can be seen by the response they provided us with the memorandum of agreement setting up the management committee
I discovered that the councillor who has oversight of the committee is ann redstone and communicated my concerns to her
she passed it on to the General Counsel who obviously did not have the information at his finger tips, referred it to democracy services and eventually we got the minutes of the committee the correspondence with counsel is here
the most significant documents are the minutes of 15 february 2022 and the MOU
I would have expected to have seen mention of the invoice dated 11 February in the minutes or discussion with regards to setting the rules as per the mou which specifically state"to make rules for the use of the Domain and its facilities, subject to first obtaining the prior approval of the Council"
Why was there no mention in the correspondence and why was there no mention in the treasurers report and who is the entity which holds the bank account into which the funds were paid.
Councils are required to operate in a open transparent manner see section 14 local government act 2002
The reserve is a public reserve and the reserve act applies and specifically states in section 17 "the public shall have freedom of entry and access to the reserve, subject to the specific powers conferred on the administering body by sections 53 and 54, to any bylaws under this Act applying to the reserve, and to such conditions and restrictions as the administering body considers to be necessary for the protection and general well-being of the reserve and for the protection and control of the public using it:"
Must be time for a refund and an apology .
This article is to respond and bring balance to the news item https://www.stuff.co.nz/national/crime/127523234/top-auckland-puppy-breeders-on-trial-for-neglect-of-dogs-living-in-dirty-conditions
Barbara  and Janine are before the court  they had an excessive number of  SPCA raids  and their  dogs were allegedly taken  because they did not comply with the SPCA compliance   directives  under section 130  of the animal welfare act .
However instead of being charged with   the appropriate offence of  failing to  comply  ( if that was the case ) the Auckland SPCA officer chose to seize  healthy dogs because in this opinion Barbara had too many dogs . ( that is not an offence under the animal welfare act )
In 2019 I had not met  either lady and was approached by them , I was not going to do anything until I had been to the farm  and had seen the dogs for myself , I was impressed and after hearing the interview of Janine By Kevin Plowright the inspector who had seized the animals  I was convinced that these  ladies needed help .
I found it strange that in this interview there was no reference to any alleged offences and I also questioned why the document which they were given when the dogs were seized made no refence to alleged offences .
It was only after this interview which I considered coercive and intent on surrender of the dogs that Plowright commenced prosecution action which included the use of search warrant which was one year out of date and or dubious origins .
I investigated   and  compiled a complaint for the police  for the theft of dogs. But the  court proceedings stalled,   and  we had to wait five years for their day in court .
Last year I became aware of the events in Australia https://www.malcolmrobertsqld.com.au/is-the-rspca-a-charity-or-a-dodgy-business/ published in  June 2021 "Much of RSPCA's revenue is gained from seizing animals from their owners under the rouse of falsely claiming that the animals are not being treated appropriately. A common feature of the RSPCA's approach involves the RSPCA harassing owners who appear to have fewer means and lack the ability to challenge the RSPCA in court."
This is very much what I believed had happened to Janine and Barbara. Volkerson kennels was home of many champion dogs and in 2017 Barbara was breeder of the year .
This was her downfall.  She had many imported blood lines  and I find it   incredibly strange that  the   only dogs worth seizing were  the  imported blood lines . She faces many identical charges for other dogs which were not seized and strangely enough these are domestic blood lines and not the champions .
She  and Janine   face a plethora of charges, for which  evidence must be  produced in the court but  which  so far they have not seen in pre trial matters .  It took a full 14  months  before they were even charged and  by then the dogs had been disposed  of to the now dissolved  Auckland SPCA .
Even more incredible they have been charged  with several offences for having a dog  which was ill   and did not ensure that the animal received treatment to alleviate unnecessary pain or distress suffered by the animal.  These dogs were so ill that when they were seized  by the Auckland  SPCA they were taken straight to the Papakura pound  and  left there for  2  full weeks   before being examined by a  vet .
Then there were  5  further dogs  seized by inspector Plowright  in 2019.  These dogs were taken without  documentation and were returned by  then chief inspector Tracey Phillips  . These dogs  were  sick when they were returned from the Auckland SPCA   as evidenced by the    animal welfare notices  issued by the then inspector Mike Loulanting . Thes dogs had been in the " care " of the SPCA for nearly a year .
Then there was the  bitch  which whelped in the  back of a van  and her puppy died. There is incredible confusion about the number of puppies she had   and these valuable  dogs   for which the SPCA obtained   pedigree history were disposed of unlawfully and were never seen by their owners.( only dogs seized and subject to charges can be disposed of under section 136 ..these pups originally 20 in number from 2 bitches were born in captivity and have not been the subject of charges )
There is an assumption that the RNZSPCA is the same old society that was set up many years ago.
Over the years it has gained a reputation of being a trusted brand.
It is however very much like the hatchet I have in my garage it is 150 years old and has had four new handles and six new heads, but it is still the same old trusted Hatchet … or is it?
The RNZSPCA formed well over a century ago and has a new constitution new leadership structure and lacks the public oversight which it had just a few short years ago .
It is now a business run by a former Ernst and young accountant and not the volunteers of the past .
In 2017 The RNZSPCA established itself as one SPCA before that there had been many branches and member societies, each a separate legal entity . I was a member of the Hawkes Bay branch. Our membership was transferred to the RNZSPCA and former members have never seen a renewal .
The significance of this is that the power is now held by a few rather than by many .
This is a private law enforcement organisation with excessive public powers and even has the use of crown solicitors to defend their actions . Where is the transparency where is the accountability where is the integrity ?
We need a full investigation into the RNZSPCA urgently .
I refer back to my post Open Letter to Tracy Phillips GENERAL MANAGER SPCA INSPECTORATE. I have had several people ask me why identity is so important so let me explain .
Under our laws only real or legal persons have the ability to sue or be sued.
It is important that is some one sues you that you know who this person is as the law would be one sided if they can attack you but you cannot defend back .
If an unknown person or a fictional person wins a court case they can used the decision against you to be enforced but you wont be able to take action against them as fictional persons are effectively invisible and cannot be sued .
Lawyers appear to be totally lax with regards to identity issues , yet it is the most fundamental fist step , the establishment of the parties to a dispute .
So in the case of the prosecution of Barbara and Janine the charges read

The Animal Welfare Act is unusual as the offences are generally Strict liability which means that when the prosecutor makes the allegation that you have done something that you did not necessarily mean to do the act of doing it makes the offence complete and there is no need for the prosecution to show that you had any intent ( mens rea) to do the act.
There are two types of Person
Real people.. that is like you and me who live and breathe and invariably have a birth certificate and eventually a death certificate.
Legal persons.. statutory persons set up through legislation such government departments and or recognized through legislation through being registered as a Crown entity , company , trust incorporated society etc.
To ascertain whether a person is a real or legal person you check on their existence and registration in the case of the RNZSPCA you can find its details here Incorporated Societies Register you will find it on page 4

search on the name Royal society for the prevention of cruelty to animals and you will see this
As we have seen Kevin Plowright and Lauri Davis produced a receipt for the first five dogs which were taken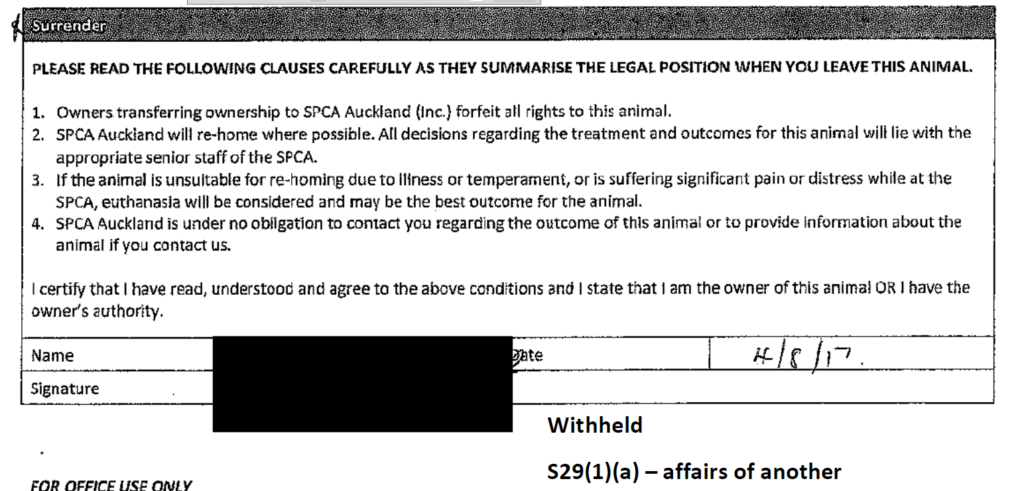 The SPCA Auckland inc is defined in the constitution of the RNZSPCA

The constitution of The RNZSPCA makes no mention of a royal society for the prevention of cruelty to animals or a royal society for the prevention of cruelty to animals( Auckland) which are he names used by the alleged prosecutor .
Therefore the " prosecutor " in this instance is not a legal person and cannot sue or be sued .
The only person who is involved in the prosecution is Kevin Plowright who has handed it to the Probono Lawyers for the Auckland SPCA who happen to have a massive conflict of interest in being he crown solicitors office and who have taken this on contrary to the provisions of their terms of trade.
Kevin Plowright ceased being an inspector under the animal welfare act 21 June 2019 so for the past year the file has been in the hands of lawyers who are scrambling like crazy to cover up their oversight of not checking the legitimacy of the prosecution .
It is far easier to aggressively pursue Barbara and Janine than for the Manukau crown solicitor to admit that they stuffed up
In the law society Law talk publication 2 march 2017 it states "
"We are very grateful to have a significant commitment of pro bono litigation support from Kayes Fletcher Walker, the Office of
the Manukau Crown Solicitor. The firm support the work of the Pro Bono Panel in a number of ways including by acting as instructing solicitor, by providing legal opinions on individual files as to whether the test for a prosecution is met, as well as appearing in court to assist Panel members
on cases. The pro bono work that Kayes Fletcher Walker provides is a significant factor in the ongoing success of the Panel initiative and contributes to ensuring the consistency and high quality of SPCA
Auckland's prosecution files"
Well Kayes Fletcher Walker .. why did not one check to see who the legal entity was which is listed as the prosecutor and why did you seek disposal of dogs in a file intituled
The court is told that the application is being made on behalf of the Society for the Prevention of Cruelty to Animals, Auckland ("SPCA"}
but when Barbara and Janine take their appeal to the court intituled in exactly the same manner as the original matter the judge states
"[3] The respondent, the Royal New Zealand Society for the Prevention of Cruelty to Animals (the SPCA), is an approved organisation under the Act and responsible for prosecutions. "WALLACE & ANOR v THE ROYAL SOCIETY FOR THE PREVENTION OF CRUELTY TO ANIMALS AUCKLAND (SPCA AUCKLAND) [2019] NZHC 1599 [10 July 2019]
When the pro bono lawyers decide to pursue cost the name suddenly became important and they had an inspector who was not employed by the RNZSPCA sign a document alleging that the name for a charge which she did not lay should be changed to the The Royal New Zealand Society for the Prevention of Cruelty to Animals Incorporated'. WALLACE & ANOR v THE ROYAL NEW ZEALAND SOCIETY FOR THE PREVENTION OF CRUELTY TO ANIMALS INCORPORATED [2020] NZHC 1618 [9 July 2020]
Laurie Davis' application was supported by documents from Andrea Midgen , the document was neither sworn or certified true , a copy was sent to the court and the court totally accepted it , unbelievable !.
Kevin Plowright was an inspector under the animal welfare act . He was employed by the Auckland SPCA
This morning Janine and Barbara had to run the New media Gauntlet, News Hub which was not allowed to film in the court set up by the ladies vehicle . To say that the ladies were intimidated was an under statement they feared for their safety not because of the press themselves but because of the manner of reporting and the death threats they have had because of it
I therefore am writing to you to provide Balance to the story and hope that you can incorporate the following to create a neutral perspective and make people think.
Senator Malcolm Roberts in Queensland has raised questions the videos and transcripts are at these links these are all less than 2 months old
https://www.malcolmrobertsqld.com.au/is-the-rspca-a-charity-or-a-dodgy-business/ JUNE 27, 2021
https://www.malcolmrobertsqld.com.au/is-the-rspca-really-about-saving-animals-from-cruelty/ 3 June 2021
https://www.malcolmrobertsqld.com.au/de-register-the-rspca-as-a-charity/ JULY 19, 2021
The SPCA is a private organisation . Next week they have cup cake day and can raise $140,000 from selling cup cakes this pales into insignificance when these pedigree dogs can raise upwards of $250,000 each
if you want to research your story and the private prosecution which this is you may wish to look at Open letter to Luke Radich of Kayes Fletcher Walker
no one is above the law so why is the crown prosecuting .
If the matter had followed due process the inspector would have been fully supervised by the RNZSPCA despite working for he Auckland SPCA
The name of the prosecutor on the charges would have been a real legal person
There Is no doubt that this is a PRIVATE prosecution and there is a process for this , which has not been followed
The registrar get the charges. Any registrar getting 79 charges will refer it to a judge section 26
A judge will then asses the charges and if the evidence supports the charges ( which in this case it does not ) then summonses are issues.. which never happened
Janine and Barbara would have been fully and Fairly informed of the charges including knowing who the prosecutor is

The name of the prosecutor was only changed a few weeks ago from a fictional organisation to the RNZSPCA which was actually not involved at all in 2017 and appears not to have been involved in 2018
There would not have been a plethora of charges which often relate to the same dogs.. this is called throwing the book at people and swamping them so as to overwhelm them plus it makes it look good for a trial by public
There would have been precise evidence to support the charges and not see them charged with having a ill animal like Mafia whose picture is above
This is the pedigree of Mafia https://www.pedigreedatabase.com/german_shepherd_dog/dog.html?id=2275498-mafia-vom-volkerson
And in view of the charge you have to wonder why Mafia was uplifted on 13 October 2017 went straight to the pound and was not seen by a vet until 27 October

Also the only vet to have seen many of these dogs happens to be a SAFE activist and there was no opportunity for a second opinion
Other relevant questions are
Why was the interview in November so weighted towards surrender
Why did it take over year to file charges
Why did they need to get the pedigree papers
Why did they need vet reports .. surely the dogs were taken because of their condition so would the evidence not be on the dog on the day that it was taken or could it be that healthy dogs were tken and they had to dig deep to find evidence for court
Why did Greg Reid need to liaise with TVNZ to have a "puppy farm" article right when they were disposing the dogs to the AUCKLAND SPCA

How could the crown solicitor possibly allow the court to dispose of a number of puppies which were neither seized nor subject to charges under section 136 A .
why 5 more dogs were taken in 2019 without documentation and why Tracy Phillips returned them when she was inspector and became aware of this and why she resigned also immediately when I sent her an open letter Open Letter to Tracy Phillips GENERAL MANAGER SPCA INSPECTORATE could it be because she has integrity and could not work with this fiasco
Barbara and Janine have had death threats , they have been subject to many raids on their farm by Both the SPCA and random others , they live in fear.
Their passion was breeding high quality dogs they fit the profile described by senator Roberts exactly
In the interest of NZ justice and fair reporting I ask that you investigate this aspect
I am publishing this open letter on Transparency NZ in the interest of transparency and justice
[Senator Malcolm Roberts] Thank you. Thank you for being here, Dr. Johns. Thank you. My questions are to do with the RSPCA Australia and Queensland. They're two separate bodies. What body oversees the activities of the RSPCA Australia at either state or federal government level?
I'm sorry, I'd have to take that on notice. We'd have to look up the register and look at its details.
Transparency New Zealand up until recently had about 44 separate legal entities either branches or member societies see the constitution of the RNZSPCA
[Senator Malcolm Roberts] And, you'll be excused if you have to take up a lot of these on notice. It surprised me when I learned about this. Why, in Queensland are RSPCA state inspectors who laid charges, also the prosecutors in the same cases? Shouldn't they be merely a witness?
I will take that on notice, thank you.
Transparency New Zealand we take it one step further here , the inspector can prosecute and in this instance he has filed the charges and handed it on to the crown solicitors who are acting against their terms of office see Open letter to Luke Radich of Kayes Fletcher Walker and portraying the private prosecution to the courts as a crown prosecution
[Senator Malcolm Roberts] Why are RSPCA Australia staff referring owners to particular vets and refusing to recognise the expertise of others?
I'll take that on notice, thanks. Sorry, and I'll just interrupt at this extent, we will have a look at any charity's fitness for registration. We don't go beyond that remit, but nevertheless, please.
Transparency New Zealand The SPCA here has its own vets and a totally non transparent process where by owners are denied access to their animals after allegations of ill health are made, they cannot even have their own evets check this out and on top of it the SPCA vets in some instances are SAFE activists
[Senator Malcolm Roberts] Why would this RSPCA Australia be the recipient of fines levelled at an owner of an animal when prosecuted by a state RSPCA staff member?
I'll take that on notice.
Transparency New Zealand We are uncertain as to where the fines go , if it was a police prosecution it would go into the public purse, remember we have the crown solicitors acting as part of the pro bobo panel , so it is a win win situation for the SPCA , in this case the dogs have already been disposed of and costs of some $14,000 have been accrued against the ladies , some of these dogs with a quick microchip swap could fetch up to a million dollars if sold overseas . Their sperm and their eggs have value to and so Becky Murphy of Dogs NZ has examined these dogs and has just bought GlenBred – Small Animal Reproduction, a division of Matamata Veterinary Service
[Senator Malcolm Roberts] Aren't RSPCA Queensland and RSPCA Australia separate bodies?
[ Dr. Johns] I'll take that on notice.
Transparency New Zealand The various member societies and branches are all separate legal entities, a representative from each branch and member society used to be on the RNZSPCA which then elected its own board. effectively SPCA Auckland has taken over the RNZSPCA which now has a very limited membership so as to keep control

[Senator Malcolm Roberts] If an RSPCA Queensland inspector tells an owner of an animal to pay a large sum of money in order to get their unreasonably seized animal returned, and if not paid the animal will be killed, doesn't that sound like extortion?
I don't know, but I'll take it on notice.
[Senator Malcolm Roberts] How many animals are put down by the Queensland RSPCA in a year?
I'll take that on notice.
Transparency New Zealand This has happened in New Zealand and Janine and Barbara have been asked for massive sums despite losing their dogs .
[Senator Malcolm Roberts] Is it true that animals held by the Queensland RSPCA are given to organisations for laboratory experimental purposes?
I'll take that on notice.
Transparency New Zealand The reports which we have had back would indicate that these dogs have been experimented on it has been very difficult to get over sight from MPI .
[Senator Malcolm Roberts] Are the RSPCA Queensland and the RSPCA Australia genuine charity or nonprofit organisations and worthy of receiving Commonwealth grants?
I'll take that on notice.
Transparency New Zealand The two top men David Broderick & Gordon Trainer have a number of development and investment companies together
[Senator Malcolm Roberts] How can the Queensland RSPCA seize valuable animals from registered breeders and then on-sell them for thousands of dollars in profit for the RSPCA?
I'll take that on notice, thank you.
Transparency New Zealand Simple you seize a dog or intimidate some one to hand them over then you sell them . pedigree dogs with papers would get a few more $$ than a beaten up Staffy with battle scars.
[Senator Malcolm Roberts] How much money does the RSPCA Australia and RSPCA Queensland receive from the Commonwealth in grants?
I'll take that on notice. I'm sure it's on the register, but yes.
Transparency New Zealand There are searchable official information act requests at https://fyi.org.nz/request/12557-funding-provided-by-government-including-mpi-to-spca#incoming-48507
[Senator Malcolm Roberts] Yeah. No, I don't expect you to know these. It surprised me when we found out what we found out. Not at all surprised that you're taking them on notice, and I appreciate that. Why would anyone donate to the RSPCA Australia and RSPCA Queensland when its practises are not very charitable? Is it time for the RSPCA Australia and RSPCA Queensland to be investigated as to its offensive practises?
I'll take all of those matters on notice, thank you.
[Senator Malcolm Roberts] Thank you.
Reply.
[Senator Malcolm Roberts] Thank you, Chair.
[Male Speaker] Thank you.
Good afternoon Luke
We are fortunate in New Zealand to have good guidelines which when followed ensure the requirement of section 27 Bill of Rights but the system falls short when there is no accountability to the Rule of law and therefore we bring this to your attention in view of your review of charges for Barbara and Janine

We believe that it is timely to remind you of your obligations , specifically to two sets of guide lines
Paragraph 15 "As prosecutors, Crown Solicitors are ministers of justice and serve the public interest. Crown Solicitors must be independent and free from compromising influences or loyalties when providing services as Crown Solicitor."
In undertaking a prosecution for an unidentifiable organisation you have demonstrated a clear disregard for the bill of rights and it would appear that you are acting against the public interest, and terms of office

paragraph 16 "Unless granted dispensation by the Solicitor-General, for a specific case or class of cases, Crown Solicitors and lawyers in the Crown Solicitor firm may not (4) act for the prosecutor in any private prosecution.
The RNZSPCA is a private prosecutor it is an incorporated society.
The name of the prosecutor was changed by you last week without any evidence from the fictional prosecutor Royal Society for the Prevention of Cruelty to Animals (Auckland)
The actual prosecutor for which evidence can be produced is the Auckland SPCA which was dissolved earlier this year.
Crown Solicitors Regulations 1994

In my OIA which came back yesterday there is evidence that there is no such dispensation and that a group of crown solicitors have taken it upon themselves to act on a pro bono basis or sometimes for partial fees as you put it for the SPCA
Therefore it appears that crown solicitors in representing the SPCA are not just doing this against their terms of office they are also apparently acting against the law
Of great concern is that not only are you representing a private organisation , between 2 November 2018 when the charges were filed and last week 16 July 2021 , 2 years, 8 months & 14 days you represented a fictional organisation
paragraph 17 The Crown Solicitor must comply with all directions and instructions and observe guidelines issued by the Solicitor-General from time to time including, without limitation, the following:
17.1 Prosecution Guidelines.
17.2 Victims of Crime – Guidelines for Prosecutors.
17.3 Media Protocol for Prosecutors;
The principles in the media protocol include
5. When communicating with the public through the media, prosecutors are guided by
five principles. These are:
5.1 Not making remarks that may prejudice fair trial interests or the perceived objectivity of the judge.
5.2 Supporting the administration of justice and the integrity of the criminal justice system;
You represent yourself as " the crown"
In the introduction the attorney General states "New Zealand is fortunate to be served by a public prosecution service that is professional, open, fair and responsible."
This is what the court relies on when a crown solicitor stands before it and there is also an expectation that the crown solicitor is working for the rule of law not against it .
The guide lines set out


As per (c) the person who filed the charging document is Kevin Plowright of the fictional Royal Society for the Prevention of Cruelty to Animals (Auckland)
Kevin was employed by the Auckland SPCA for some 10 years you would think he would know the name of his employer
This from the constitution of the RNZSPCA 17/6/2017
This means that The Society for the Prevention of Cruelty to Animals Auckland Incorporated (registration number 222889); was under the approved organisation umbrella but the fictional Royal Society for the Prevention of Cruelty to Animals (Auckland) was not .
Not only did it not have any powers under the animal welfare act it did not exist in any manner or form.
While the Royal Society for the Prevention of Cruelty to Animals (Auckland) was able to file a multitude of charges and seize animals and keep two ladies under severe stress for 3 years, 11 months, 22 days from the date of the first visit , it would not have been able to have opened a bank account or obtained a 5 dollar loan so how did it come to instruct a lawyer and why did the lawyer not check the name and the legal existence of his alleged client ?
There are built in safe guards in our justice system for private prosecutions to ensure integrity the act makes the following definitions
The RNZSPCA is not a statutory public body it is an Approved Organisation see the submissions of Neil Wells Here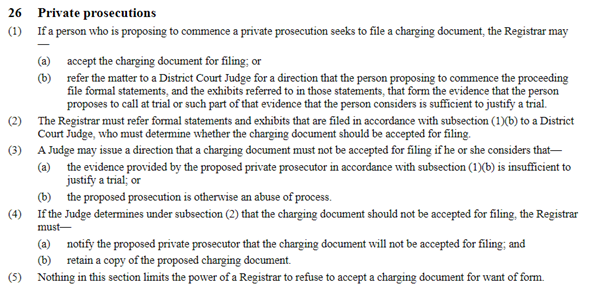 By handing this to the Crown solicitor, it effectively entered the system through the back door and by passed the scrutiny and safeguards of section 1.
One would have hoped that the registrar would have picked up the duplicate charges, the unidentified animals and most of all the false name of the prosecutor.
The file would have been assessed by a judge in 2017 and assessed whether it is an abuse of process. 3 (b)
There was never a summons issued the charge sheets were simply mailed to the Janine and Barbara after a fund raising appeal ( despite using Anita Killeen's Pro bono service ) and after wide spread publicity that the ladies were going to be charged
Charges were finally filed in December 2018 and the ladies appeared in court right on Christmas 1 year, 2 months, 4 days after the first dogs which they were charged with were taken
As former police Prosecutor I must question that length of time. Dogs legitimately seized would have the evidence on them then why I sit necessary to charge people over a year later after search warrants , acquiring pedigree papers etc.
The animal welfare act makes it clear that under section 127 if the physical, health, and behavioural needs of the animal or the need for the animal to receive treatment from a veterinarian make it necessary or desirable to remove the animal from the land, premises, or place or the vehicle, aircraft, or ship.
So why were dogs taken and placed in the pound for 2 weeks before they were seen by a vet?
The charging documents themselves "except if the prosecution is a private prosecution brought by an individual, —(i)the name of the prosecuting organisation" something that does not exist cannot be an organisation
Back to the prosecution Guide lines
THE SUPERVISION OF PROSECUTIONS
It is quite clear that the prosecution has had no supervision at all . dogs were snatched the ladies publicly humiliated and vilified and then the charges were trumped up and the book thrown at them.
We know from our communications with the chief inspector of the RNZSPCA that the prosecution did not come through the RNZSPCA and it appears to be collusion between two former inspectors Kevin Plowright who left 3 July 2019 and Greg Reid Left SPCA 21 May 2019.
Kevin Plowright passed the file to Luke Radich who despite the claim in the law society law journal that
… did not scrutinize the file at all as evidenced by the glaring errors on the charge sheet alone all serious point which need to be proved and cannot be proved.
THE DECISION TO PROSECUTE
The decision to prosecute Is based on
5.1.1 The evidence which can be adduced in Court is sufficient to provide a reasonable prospect of conviction – the Evidential Test; and
5.1.2 Prosecution is required in the public interest – the Public Interest Test.
The decision to prosecute was driven by the need to cover up the snatch of valuable dogs . while there is a lot of verbal evidence about Faeces and urine smells there is very little if any evidence of any arm to any dogs other than the harm which was inflicted when the SPCA officer panicked one dog when they opened its enclosure with a sledge hammer .
If the prosecution had been brought a year earlier it would have been far more credible and I cannot comprehend why the interview was not about any matters which were relevant to the subsequent charges.. I thought that was very odd. And why their associates and friends all had SPCA raids and why all their former clients were contacted. This is more about destruction of reputation than about justice.
Under the evidential test there is a requirement that an individual is identifiable .. here the prosecutor was not identifiable , in the disposal proceedings it was totally undefinable until it came to pay day and Luke Ravlich must have realised that it is impossible to collect a cost award payable to a fictional organisation and then changed the name at the cost application stage .
If this was a genuine move then why not supply affidavits and a transparent method of changing the name of the prosecutor why leave it to a week before the trial ?
Unlike the disposal proceedings which were a civil prosecution and had the standard of proof "the balance of probabilities'. This is a criminal proceeding s and the standard of proof is Beyond reasonable doubt .
It is quite clear that no one has ever scrutinised this file for evidence and while most of us think faeces and wee is disgusting dogs will roll in it.
Timing is every thing and I am sure there are a lot of mums out there who have found their babies in a cot with shit all up their back , probably doesn't happen as much with new disposables but in my days we would see massive blow outs . if some one had come along at the wrong time the headlines would have rad .. child found in poo covered cot .
This does not mean that the child is not cared for it is just a snapshot intime.
Public interest considerations for prosecution
The ladies have already had trial by press, Barbara is well over 80 , her life has been devastated by this she has endured several operations while waiting for trail and her health has deteriorated.
If we are talking cruelty to animals then the cruelty that has been inflicted on these ladies far outweighs any perceived transgression of the law .
They appear to be suffering from Post-traumatic stress due to the excessive number of SPCA raids, they have also been subjected to people coming on to the farm and interfering with the dogs , they are not a puppy mill but have been falsely portrayed as such and in the end this is all about $$$$$$
The SPCA has been less than honest , dogs were taken without proper documentation signatures were forged, the redaction was by the SPCA we do not know who signed it no one had authority to .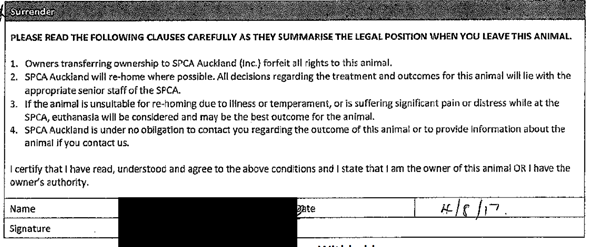 This should open the door for a full investigation into the ability of the RNZSPCA to hold public law enforcement powers
Consideration should be given to the Public interest considerations against prosecution
5.9.1 Where the Court is likely to impose a very small or nominal penalty;
The ladies have already been destroyed, they will never recover from this , their precious imported blood lines have gone , they have already been lumbered with massive lawyers costs and court costs , their health has deteriorated
5.9.2 Where the loss or harm can be described as minor and was the result of a single incident, particularly if it was caused by an error of judgement or a genuine mistake.
There are in essence two incidents one in October 2017 the other in May 2018 neither showed any animal with any serous health issues and no animal was taken because of health issues, and I do have to question how you asses behaviour when the dogs raised by compassionate women are confronted with a massive team of men wielding sticks
5.9.3 Where the offence is not on any test of a serious nature, and is unlikely to be repeated;
The mere fact that the RNZSPCA returned 5 dogs unlawfully taken to the ladies and they have been left to run their farm and care for the remaining dogs is evidence that they are good animal owners
5.9.4 Where there has been a long passage of time between an offence taking place and the likely date of trial such as to give rise to undue delay or an abuse of process unless:
• the offence is serious; or
No it is not having faeces and urine in a she happens all the tiem call at any SPCA
• delay has been caused in part by the defendant; or
No the delay is not caused by them it was well over a year before they were charged
• the offence has only recently come to light; or
No this does not apply
• the complexity of the offence has resulted in a lengthy investigation
Determining whether an animal is ill should not take years to investigate
Luke I will be brining this to the attention of the solicitor general as this has been a case of extreme cruelty to humans. I hope that you would not do this to your grandmother.. If you had checked he files on day one you could have saved a lot of suffering by these ladies .
In October 2018 the SPCA took 15 dogs from Janine and Barbara , these dogs were not ill these dogs were healthy and above all these dogs were champions in their breed .
Two subsequently produced pups and despite the SPCA acknowledging that they were pregnant they x rayed them

This dog was uplifted allegedly for an ear infection and being under weight her weight the day after being seized was recorded as 30 .5 kg which according to official records is slam bang in the middle of the norms 28 – 32 kg .
this is just an example of what "under weight" means
The questions we need to ask here are
why did it take a year and a half of investigation before charging the owners if the dogs were in a bad sate would that be conclusive evidence
why was it days and for many two weeks before they were seen by a vet despite the SPCA charging the owners with allowing the dog to suffer
why was the interview not about the condition of the dogs and their health and treatment ?
why were they left with the vast majority of dogs if they were not suitable to have dogs
why did the RNZSPCA return 5 dogs which were taken without documentation
why were dogs taken without documentation what act section protocol allows this
why was the surrender form for the first 5 dogs not given to its owner and why did some one forge a signature
under what lawful basis could the RNZSPCA take healthy dogs and not inform the owners why they were taken
why were they not allowed to see the dogs the pups and dogs
why could their vets not provide an independent assessment
why the discrepancy in litter numbers
and why enforce standards well beyond the code of welfare
Questions for Luke Radich of Kayes Fletcher Walker
this is a private prosecution then why do you emblazon your court documents with the word CROWN ?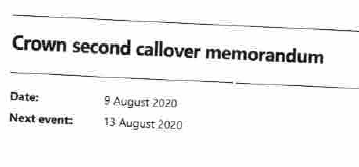 and why change the name to the RNZSPCA when in reality the prosecutor was not them and we can prove that it was the Auckland SPCA and there is no evidence at all that it was the RNZSPCA again is that not misleading he court ?

why did it take nearly two years for you to correct the name and why was it not done with any proper evidence or supported by affidavits ?
why make repeated offers for a guilty plea and why drown them with 79 charges should you not have reviewed the charges and the evidence long before now ? especially in light of the evidence and the pressure that these women are being put under to plead guilty

Luke you know that your clients executed a fake search warrant you say your not relying on that but your clients who ever they are have all the evidence which the ladies collated to defend themselves .
and if you had looked through the evidence then you too would wonder how a person can be charged with
and the very first time it ( an others with similar charges ) saw a vet was 27 October should you therefore not be charging the SPCA with neglecting animal which they claim were ill ?? and also be taking them on for allowing a dog to birth in the back of a moving van ? is that condoned but having a dog on a short leash warrants its disposal ?
may I remind you of your obligations in particular 4 (a) and 4(d)
The RNZSPCA has obligations under the bill of rights

they exercised their powers under the legislation which gave them approved status
It would appear that this prosecution could be ground breaking in proving that the breach of the bill of rights would impact on its accountability to the public .. which in my interpretation of the law means compliance with the law

When the evidence is not there corrupt prosecutors tend to resort to dirty tactics and in this case it was an unlawful search warrant that took all the preparation the ladies had done for their defence not only did it leave them powerless to fight the disposal which incidentally was to the Auckland SPCA , it also meant that the corrupt SPCA could counter the points which they had observed and made notes about on their private computer in their own home
How ,as crown solicitor could you possibly sanction entry into a home with a false search warrant
And where is the dispensation from the solicitor General which you require to act in this manner are you not severely conflicted by turning a blind eye to an organisation which should comply with he law but is actively ignoring it ?
This case ,which I am sure the ladies will lose, as the corruption is so great and the playing field so un even that the cards are stacked against them . They have been totally bullied and harassed their lives have been totally destroyed and they have already had trial by press coordinated by the SPCA .
Is this prosecution really in the public interest and why have the prosecution guide lines been ignored
This is not a crown prosecution and the crown has never assumed responsibility so why are you portraying yourself to the court as the crown ?
The ladies will be totally destroyed but its not about humaneness is about dirty tactics all the way including the provision of a legal aid lawyer who has now disclosed that he is actually a member of the New Zealand Animal Law Association and is looking at abandoning his client at the 11 th hour he certainly has not done any preparation except put pressure on her to secure a guilty plea .
We need to have an outcry in New Zealand Just like the one in Australia .!
Please keep the stories rolling in the SPCA should not have coercive law enforcement powers they are abusing the ones they have and the power is now in the control of a select few . it is not the voluntary organization of old
In this podcast two guests join us to a discuss our modern-day RSPCA. What might surprise you is that this isn't a heart-warming story.
The Royal Societies for the Prevention of Cruelty to Animals, known as the RSPCA, dates to 1871 when a public meeting was held in Victoria in response to the ill treatment of horses. The QLD RSPCA was formed in 1883. The RSPCA is a household name and many consider it a beacon of respect and care for animals.
Today, the RSPCA has capitalised on its branding of animal welfare with producers and brand owners being able to use the RSPCA logo to reflect their shared vision for animal welfare. Today we can buy RSPCA approved meat in our supermarkets. Typically, we don't question the integrity of the claimed "animal welfare" standards as we take for granted that this iconic brand is squeaky clean.
Several QLD constituents contacted my office recently with extraordinary stories about how the RSPCA were conducting themselves. Since asking questions at Senate Estimates about the RSPCA, their methods and the legitimacy of their not-for-profit status, we've been flooded with more calls and emails. Their stories share many similar themes and the overall message is that there is something rotten in the state of the RSPCA.
The concerns being raised are varied.
The RSPCA's charity status means that they are not-for-profit and enjoy a tax-free status. Looking closely at the recent annual report it shows revenue was $58 million and included in that is a $4 million Federal Govt grant. The hefty surplus of $8.7 million is what prompted Senate Estimates questions of the Commissioner for Charities and Not-For-Profits. My questions were about whether the RSPCA should continue to enjoy charitable status? We're waiting for that answer as no-one could provide one on the day.
The RSPCA appears to be leveraging its charity branding to become heavily commercial. I have already mentioned the RSPCA approved meat and today RSPCA pet shops are being set up in the suburbs. On the face of it there is no problem. It is when we understand how the RSPCA is conducting itself under its Inspectorate powers, that we see the problem.
The RSPCA's Inspectorate of RSPCA QLD, has power to investigate and confiscate animals that are poorly treated. That is the heart of what we expect from them. What we don't expect is seizure of animals based on lies. We have dozens of examples where Inspectorate officers have entered properties and confiscated with no prior notification or investigation. All this is based on an anonymous tip off that is never disclosed to the property owners. The warrants JPs sign sometimes use photographs of animals in poor conditions, which do not match the animals to be seized. This is only the beginning. Some pet owners have then seen their animals online for sale within days. This is the problem when the RSPCA have a commercial arm alongside their charitable arm when they can confiscate and sell based on misuse of powers and lies. This is a clear conflict of interest.
Many pet shop owners, registered breeders, private pet owners, animal rescuers and veterinarians have experienced the full force of the RSPCA's misuse of power. Many have spoken out against this strong arm approach and suffered the consequences. Pet shop businesses have been sabotaged when the RSPCA advises their suppliers to blacklist them based on false accusations of animal cruelty. Veterinarians who have spoken out against this behaviour have also suffered from the RSPCA spreading false accusations regarding their standards of animal care. Business have been decimated through this belligerent behaviour.
My two guests, who both own pet stores, join us to share their experiences with the RSPCA. Their stories are confronting.
Leichelle and Nicole's stories are extraordinary and not what we expect of a charity that is supposed to champion care and respect for animals. This unconscionable conduct is exploiting its charitable and tax-free status to create a multi-million dollar business. Its strong-arm approach is clearly outside of acceptable conduct under both the Acts.
The RSPCA have become a law unto themselves, issuing warrants based on lies, not going through due process to investigate before seizing animals, extorting money out of people for housing their stolen animals and then annihilating local private businesses through negative media and malicious lies. It's quite a rap sheet for the warm and fuzzy RSPCA we all grew up with.
This belligerent and intimidatory behaviour must stop. Their exploitation business model must be stopped.
I am calling for the RSPCA to be de-registered as a charity. I urge everyone to take your complaints to the ACCC and to the Charities and Not-for-Profit Commission for investigation. Everyone who donates to the RSPCA, think again. Any RSPCA employees, past or present, are invited to call my office and share their stories.
This behaviour has gone under the radar for too long. We need to bring the RSPCA back to the animal welfare organisation it is supposed to be.
"The Sword which lady Justice carries supposedly symbolizes enforcement and respect, and is meant to imply that justice stands by its decision and ruling, and is able to take action. The fact that the sword is unsheathed and very visible is a sign that justice is transparent and is not an implement of fear. A double-edged blade signifies that justice can rule against either of the parties once the evidence has been perused, and it is bound to enforce the ruling as well as protect or defend the innocent party."
BUT its is warfare and the sword is manipulated by an army on one side and an amateur on the other it is not a level playing field .
It equivalent to a mediaeval Joust, if I can drug your horse and cut your saddle straps I will win if I can stay in the saddle . That is pretty much the SPCA's approach and they have targeted ladies with high value dogs and little ability to defend themselves.
I have written articles about Volkerson where an 80 year old and her daughter have had many of their pedigree dogs taken from them . I would not be supporting these ladies if they abused their animals , they have a magnificent farm and the dogs are just gorgeous
It took 1 1/2 years before charges were filed and in the intervening time the SPCA inspectors gathered evidence for the prosecution through
unlawful search warrants which have never been proved to have been issued in any legal manner
Taking defence documents from the home and never returning them depriving them of evidence for a defence
cloning the computer and accessing their email accounts
obtaining vet records from their vet for treatment for the dogs over a considerable period of time
additionally They employed dirty legal tactics
Took the security system and left it dismantled
used the pro bono panel of lawyers which happened to be a crown solicitor and who the court believed was representing the crown
court documents which falsely allege that this a crown prosecution
failed to disclose who the actual prosecutor was
Acting in the name of the Auckland SPCA in disposal proceedings
unsupported with evidence just weeks before the trial the prosecutor is now alleged to be RNZSPCA
they trumped up the number of charges.. there are many duplicate charges and they obviously had to dig deep to formulate these. It appears it is an offence to have a dog on a short leash even for a short period of time !!!!
the reason that there are so many charges is to overwhelm the ladies and their lawyers
several dogs which they have allegedly left untreated and we allegedly ill were taken straight to a pound and left there for two weeks before being examined by a vet
Puppies were unlawfully disposed of through the court when there is no legislative basis for their disposal
they were denied the right to an independent assessment on the health of their dogs its all on the say so of the SPCA vets some of whom are confirmed SAFE activists
the interview proves that the objective was not an investigation rather than an incentive to surrender the dogs which were selectively taken in October 2017 .
the following year in the disposal proceedings there were offers to forgo the costs if the ladies voluntarily handed over their dogs
there were in excess of 30 official visits and there were mid night raids where the dogs were disturbed and interfered with
Swamped and overwhelmed the ladies with large bundles of alleged evidence which focus on distraction like smell and opinions about stained concrete rather than any real evidence of the condition of the dogs themselves
you have to wonder why on two identical charges that one dog was seized and the other was not the only difference being that the imported blood line was seized and the other dog left
What is the significance of of obtaining the dogs pedigrees ? and why were past purchasers of pups contacted and friends and relatives harassed.
statements from various inspectors appear to be cut and paste versions none were written up contemporaneously and it was only after the final push to surrender the dogs failed that they started looking for evidence !
the coordination of a public exposure (including TV press and a massive mail out) with the disposal hearing
the attack and identification of the ladies through social media ensured that they had death threats and mid night raids
A legitimate prosecution would have been based on the evidence displayed by the dogs as they were found on the day and supported by the documents issued on the day that identify why they were seized instead we have statements such as this "We said they have too many dogs on the property and a major destock was required." The property is a farm it is massive and it isn't looked after just by the two ladies they had farm workers of which there is no mention made.
It is grossly unsafe for a private organisation for have coercive law enforcement powers , unlike the police they have no independent oversight and they have the government acting for them through the crown solicitor sanctioning the corruption rather than holding hem accountable for the transgressions
Luke Radich better known for his involvement in a betting scandal is employed by the crown solicitor , he appeared incapable of identifying the fact that the prosecutor in this case could not be

He has not checked the charges as implied by Anita Killen in Law talk Download LawTalk issue 904 p65″by providing legal opinions on individual files as to whether the test for a prosecution is met," wouldn't getting instructions from a legal entity be the first port of call ?
How could the Royal society for the prevention of cruelty to animals ( Auckland) "instruct" a lawyer when it does not exist
What process did the decision for prosecution follow when the head inspector for the RNZSPCA said that she had no knowledge of the matter but did assist in returning 5 unlawfully taken dogs in Dec 2019
Which board of which legal entity authorized the prosecution it was the Auckland SPCA which "instructed " Luke Radich this email sent to the ladies lawyers
Referring to the disposal order above we have been trying to get our head around the number of pups for a long time , not only did Radich and Natalie walker fail to advise the court that the puppies were not capable of disposal under section 136 A but there is a gross discrepancy in numbers there was an application to dispose of 13 puppies Reid in his email below alleges "Desni gave birth on the 10th of December and her 7 puppies (4 male and 3 female) are doing well."
Unfortunately one of Debbie's pups died and was eaten by Debbie. Despite the challenging time that Debbie went through during helping our vets advise that her 4 male and 5 female are now progressing satisfactorily. I make that 16 pups
The vet reports Debbie had 11 pups one DOA which is odd as there is a kennel number missing in the sequence and the DOA appears to be a non sequential number . Two were euthanized total of 8 surviving pups
Desney is shown as having 9 pups one euthanized 2 deceased which leaves 6 a total of 14 pups she whelped in a moving van being transported by the SPCA . she did not have a quite place to whelp and it appears that pups died as a result of the SPCA's negligence in not allowing a dog to have a safe place to deliver her pups .
One puppy has officially gone AWOL and 13 unlawfully disposed of. This is proof that he SPCA cannot account for anything and their lawyers cant get the law right. If the SPCA cannot account for puppies what else are they getting wrong .. there is plenty but we will leave that for court
Greg Reid writes

Spca.org.nz was the web domain owned an operated by The Auckland SPCA Reid specifically states "I have copied in the email details of Luke Radich from the Auckland Crown Solicitor Kayes Fletcher Walker, who we have instructed."
He goes on to add "I can further confirm that whilst the SPCA acknowledges the efforts your clients have made in developing new Kennels. the number of dogs your clients have confirmed they have still exceeds the Kenneling capacity at the
property. In addition we still hold concern about the integrity and competency of your clients approach in managing dogs and so it would be inappropriate to place dogs back into what we have deemed to be a significantly high
risk environment, particularity when despite our repeated requests and directives your clients persisted in operating in a manner which we anticipate will result in criminal proceedings."
This confirms the statement he is recorded as making when he inspected the new kennels which the ladies were told to build he claimed that the improvement was 120% but added "Hope you have not built the kennels for the dogs, you will never get the dogs back."
The ladies had complied with every section 130 direction and had never been warned that they failed to comply they were doomed from the very first day when they were identified as being prime targets as per the scenario below
This from and Australia contributor
False allegations of sexual assault and other sexual offences have had a fair run in the media, and are an obvious problem.
However, false allegations are a far greater problem with respect to RSPCA prosecutions, about which the scepticism factor has yet to ruffle the public mind – despite the tsunami of rage rising on the internet!
An estimated 100% of RSPCA cases are
1) fabricated (eg inter alia with staged photographs) or
2) exaggerated beyond credibility, and
3) reliant on hostile subjective interpretations of statutory offences made possible by loose statutory definitions, and
4) collusion of witnesses,
5) use sub-clauses of the relevant legislative Act without reference to other clauses which would inhibit prosecution if the Act was required to be regarded as internally consistent
6) based on selective profiling – with a view to using 'prosecutorial discretion' (inbuilt for 'private prosecutions') – which ignores common law insistence on 'equality of all before the law', in order to choose persons a) with property or other valuable benefits that can be acquired through conviction, or b) predicted to be lackingfinancial, emotional or physical capacity to run an effective defence,
7) should be peremptorily denied locus standi on grounds of history of bringing vexatious charges
8) should be but are not thrown out by a) the DPP on request for intervention to terminate or takeover the case, or b) the magistrate concerned for to protect the process of the court over which he is presiding, on grounds of unconscionable behaviour, improper purpose, mens rea (no criminal intent), etc.
9) supported by unconscionable refusal of politicians, lawyers, judges, magistrates, DPP, police, media or general public to assess RSPCA prosecutions as an offence against public order and good governance (public interest)
I am sure I could continue along these lines for a considerably longer time.
In my personal case, all of the above should be augmented with extra charges that should include, for instance, false arrest, entry without a warrant, wilful damage to property, conspiracy, wrongful access to police surveillance and database, defamation, theft, and more.
For the moment, however, please consider the content of the attached 'Summary case against the RSPCA' – with especial look at Section 4, for 31 "possible/potential charges" with which the RSPCA should be charged, as preliminary to demand for massive compensation for victims who have suffered massive and ruinous damages to their lives.
Sir
New Zealand has one approved organisation under section 121 of the animal welfare act The criteria are shown in section 122
The SPCA is a private organisation which now totally lacks transparency and appears to be nothing more than an incorporated society of a bare minimum of members so that the power and control over the assets and functions are held by a select few
This comes after many of the smaller branches and member societies were persuaded to sign over their assets to the RNZSPCA. Ho wit used to be was that there were branches and member societies which each was an incorporated society with its own members . the members elected a board and a representative of the board was on the RNZSPCA.
It appears that the richest of all the Auckland SPCA took over the RNZSPCA and persuaded the branches to sign over their assets , this was all done in the guise of a better SPCA but ib reality it will prove to be a massive asset grab
Most of these smaller societies and member groups are now being closed their assets have been transferred to the RNZSPCA and this controls well over one billion dollars worth of assets and funds ( source charities register accounts ) The members were given free membership till 2019 and simply since then the majority of former SPCA members have lost their say in the society
There appear to three people at the heart of all of this who have total control of all the affairs of the SPCA David Broderick and Gordon Trainer who have a number of shared directorships and ownership of companies out side the SPCA all associated with finance and property and their right hand woman Andrea Midgen and even though she is allegedly an employee she is also shown as a board member .
What all three have in common is a solid background in finance and not in animal welfare this is all about $$$$$$$$$
Midgen went around the country and encouraged smaller SPCAs to hand over their assets which occurred in 2017
Significantly the Ontario SPCA lost its law enforcement powers and I would like the minister to review the criteria of section 122 in view of the dramatically changed structure and lack of transparency of the RNZSPCA .
It would be in the public interest for the minister to send a representative to the Manukau District court next week where there is a prosecution by the RNZSPCA I believe that evidence at this trial will prove that the RNZSPCA has no regard at all for the bill of rights and the rule of law
The trial that will occur next week is a copy cat of the scenario that senator Malcolm Roberts describes as occurring in Australia
A chronology of what occurred at the Volkerson Kennels, the number of visits in itself raise questions a as to the manner in which the SPCA is operating and with regards to its accountability to the public
Janine and Barbara have champion pedigree German shepherd dogs. They are not a puppy mill rather they are people with a passion for the breed . Their house is full of trophies and ribbons, Janine is a German Shepherd Judge Barbara has been breeding German shepherds since 1960s .
The farm was run with the aid of woofers and there were always plenty of people about to look after and care for the dogs .
IN 2017 They were breeder of the year with 8 Champions including Pirelli, Angelo, Tiana, Abba. Significantly they have unique imported blood lines which other kennels did not have.
on 28 July 2017 they were in the middle of cleaning the kennels when they were visited by Kevin Plowright and Lori Davis , they claimed that there were too many dogs and instructed them to build new kennels which were built and they were told to de stock which is outside the scope of the authority of the inspectors unless they can show that animals are being harmed
4 August 2017 they returned and criticized and intimidated Barbara a woman in her 80s and coerced her to hand over 5 dogs . No receipt was issued there was no paper work at all . After I came involved I sought out the documentation and we were supplied with this document which has not got a legal signature on it from any one authorized to surrender the animals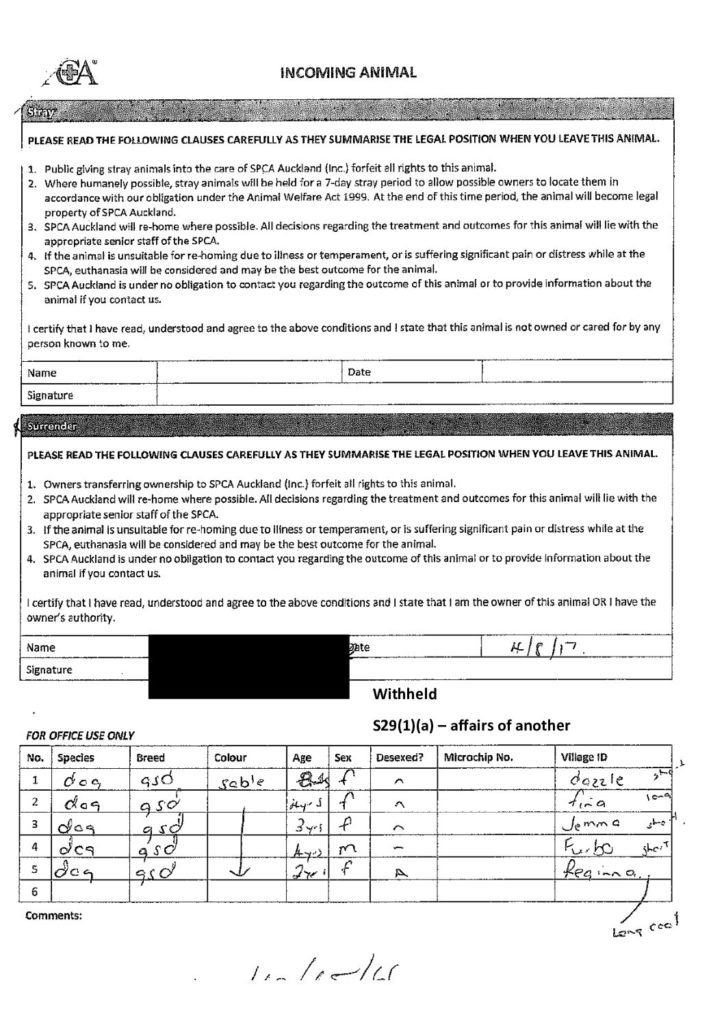 11 August 2017 return visit and micromanagement intent was to remove more dogs "We discussed with Mrs Glover and Ms Wallace regarding rehoming more dogs and we offered the ability to surrender ownership of more dogs to the SPCA, They both declined the offer."
Kevin Plowwright went of to Namibia for a spell so all was quite he came to the farm again on the 12th October left no documentation and came back and with reinforcements in 7 vehicles on 13 October and selectively took 15 dogs two of them pregnant bitches . They took the breeding age dogs they didn't take the old ones or the young ones and they knew which ones to take through microchip numbers .
Amongst the dogs taken was the champion Pirelli who was on a short leash at the time being groomed for a show that week .There is no law that stops a dog being on a short leash . Another dog was injured when they opened the shed with a sledge hammer and she panicked
24 October Lori Davis & Kevin Plowright arrived no AWS was given.
9 November 2017 There was a interview at the Auckland SPCA the encouragement was for us to surrender the dogs voluntarily see the transcript below this is not a normal interview for " offenders"
The interview lacks any reference to any offence and appears to be totally about securing the surrender of the seized dogs, there is mention of the costs incurred by the spca and there are offers to wipe these costs if we surrender the dogs He makes it clear that there were no decisions to file charges P 56 " If there's not, if there's massive stress levels on you for coping, for too many dogs, if your mother's not well, we would like to know that. So we would like to, part of this interview process is, is not, I can mention there's no course of action decided at this stage. Anything can happen from here."
Janine was threatened with the hefty penalties page 68 but when the interview failed to secure the surrender of the animals the inspectors belatedly started collating evidence
29 November 2017 One of the seized bitches gave birth Janine and Barbara were not allowed to see the pups the whole litter has been contaminated with Coccidia and they are all sick, all underweight and were deliver by caesarian section , they were x rayed at a very young age their vet records shock dog owners that the SPCA could treat pups in this manner
Desneys Pups were born 11 December one pup was born in the van village ID 293360 "Pup was born DOA on transport back from after hours. " what would any one be charged with if they transported a bitch in labour ?
the pups are recorded as having giardia and coccidia
These medical files are sad reading they show what the SPCA subjected puppies to in their care
Barbara and Janine never saw these pups and they were unlawfully disposed of through the crown solicitors who misled the court .Section 136A allows for dogs to be disposed of through the court if they have been seized and if they are subject to charges .. they were not seized and they have never been subject to charges
Christmas is always a good time to manipulate people events and it was in the Christmas Holidays 2017 that Plowright and co set about preparing their files , they got the vets associated with Volkerson to handover their records and got all the pedigree documents from Dogs NZ
Friends and associates of Barbara and Janine were subjected to visits from the SPCA and the dog control were instructed to uplift dogs from friends addresses where here was not even a cat
17 January 2018 document's were filed for the disposal of the dogs the applicant was the fictional royal society for the prevention of cruelty to animals,
08.02.2018 there was a further visit to the farm no action taken no animal welfare notice was given
27 March 2018 a search warrant was executed conveniently Barbara and Janine had all their documents on the dining room table preparing to fight for their dogs. All the documents were all taken as was their computer which has been cloned and their emails and passwords accesed.
The first thing that Plowright did when he arrived was to dismantle the security system , nothing was safe they took personal items , jewelry privileged communications with lawyers, medical records of the poeple who lived in the house, diaries and personal correspondence and all this was taken without a proper inventory and based on a false search warrant .
significantly we have never found out who issued the search warrant or been able to locate an affidavit for application the document executed was a year old and had copy written on it .
during the execution of the search warrant Barbara and her daughter were forced to sit on a bench and were not allowed to tend to their farm this was unlawful detention

29.03.2018 SPCA – Plowright returns some documents, a puppy uplifted 27 march young puppy picked up and returned 29.03.2018 there is no documentation re the seizing of this pup just documentation returning it
03.04.2018 SPCA – Davis returns laptop, and other electronic devices a letter was supplied indicating that a copy of all data had been taken from these devices
1 May 2018 SPCA feature our dogs on a very damaging TV program and publicly call the farm a puppy mill . this coincides with the hearing for the disposal of the dogs.
Correspondence from Inspector Greg Reid to The kennel club shows that the exposure is not coincidental and is which said ""This will while being a civil matter create a 'public exposure' which will probably coincide with carolyn's story being aired. That is what we are looking at I think."
There is a massive fundraising drive and one of the dogs featured is a dog which was one of the original five taken unlawfully in August 2017 .
18.05.2018 SPCA & Animal Control approx. 10 vehicles – taking note of all dogs in the kennels. the workers on the farm were in the middle of cleaning and disinfecting each individual kennel. 4 vehicles then drove all over the property – 6 dogs seized No section 127 notice was given just a section 129 saying that six dogs were seized we were not told why they were seized or under which section of section 127(5)
The dogs taken had been out on a run and a swim and had been left under the trees to rest while the kennels were being cleaned , the SPCA made out that the dogs were left there for an extended period of time when the reality is that they were taken there for a morning run
22.08.2018 a notice of application for disposal order is filed for the dogs seized in May , note that this was done three months after seizing the dogs where as the other application was made five months after sizing them. Again the application is in the name of the fictional approved organisation
22.08.2018 SPCA Visit Plowright & Vet Student No name or identification – 1 vehicle + Lori Davis Robbie in 2nd vehicle issued section 13o for a calf which was new born and noted the number of dogs23.08.2018 SPCA Visit Kevin Plowright and Robbie Lloyd to recheck the calf page 21
24.08.2018 SPCA Visit Kevin Plowright and Lori Davis no documents provided as to the reason for their visit
5 September More face book and TV campaigns this is now over a year since the dogs were taken and there have bene no charges and Barbara and Janine have no idea what offences are in the pipe line
11 October 2018 there is more face book propaganda about prosecuting he biggest prosecution ever throughout October there are Facebook posts alleging that the charges will be filed any day now and finally on 2 November charges are filed in the Manukau court
there are 79 charges many of them duplicates . the charges themselves raise a lot of questions why is the crown solicitor prosecuting when its against heir terms of office ? and why have they not checked the fact that the named prosecutor does not actually exist ? if this is the degree of scrutiny of he charges how can there be any reliance on accuracy ?
This from Anita Killeen's pro bono panel page 65 "We are very grateful to have a significant commitment of pro bono litigation support from Kayes Fletcher Walker, the Office of the Manukau Crown Solicitor. The firm support the work of the Pro Bono Panel in a number of ways including by acting as instructing solicitor, by providing legal
opinions on individual files as to whether the test for a prosecution is met, as well as appearing in court to assist Panel members on cases. The pro bono work that Kayes Fletcher Walker provides is a significant factor in the ongoing success of the Panel initiative and contributes to ensuring the consistency and high quality of SPCA Auckland's prosecution files."
The crown solicitors terms of office specifically prohibit them taking on private prosecutions but the court is repeatedly deceived in thinking that the crown is representing the SPCA
Walkers prosecution has not checked the file if they had they would see that the ladies have ben charged with a named dog and then again for an unidentified dog which in reality is a duplicate charge . But by have 79 charges you create a lot of work and it becomes overwhelming especially for an 83 year old this has been totally cruelty to humans
More evidence that the file was not checked was the charges for some of the dogs which relate to allegedly having a sick animal and failing to care for them the SPCA's own evidence show that he dogs were uplifted and taken to kennels and were not seen by a vet for 2 weeks . !!!!! they were seized on 13 October and seen by a vet on 27 October so how could they be guilty of having a sick animal ?
There was never any ability for an independent opinion by their own vets and often the only vet involved was a SAFE activist .
17 December 2018 the first appearance in court right on Christmas
24.01.2019 SPCA Visit Kevin Plowright and Lori Davis plus 2 other people with no identification or names given arrived in 2 vehicles K Plowright took "Xena" who was running loose around the house on the lawn. Xena had a litter of puppies who were exactly 7weeks old to the day AWS 129 Given , Xena has simply disappeared
01.02.2019 SPCA Visit Kevin Plowright, Lori Davis and 4 other uniformed unnamed SPCA women – 4 vehicles plus 3 vehicles parked up at the Mangatangi Fire Station Plowright said they were here to do a "Hands On Inspection" of all dogs, Emma and Alex were taken no documentation and no reason for taking the dogs
Alex and Emma both were left in SPCA cars in the blazing sun Alex for 1.5 Alex hours & Emma 1.75 hours before anyone of the 6 SPCA people gave the dog's well-being a thought.
05.02.2019 SPCA Visit Kevin Plowright and Lori Davis a letter is left
21.02.2019 SPCA Visit Kevin Plowright and Lori Davis, Senka Piri, 2x uniformed Women SPCA no identification or names given, SPCA turned up with 4 vehicles and took Fenta, it is recorded on the vet documents that the dog was taken as part of an investigation …this is not a reason why an animal can be taken
06.03.2019 SPCA Visit Kevin Plowright and Lori Davis, E OMalley, 2x Policemen from Tuakau, 1 1st year student, Robbie, 2x SPCA women Names given … to execute another invalid Search Warrant to view any dogs inside the home. Not signed, not stamped from District Court.
18.06.2019 SPCA Visit Kevin Plowright and Lori Davis, E OMalley, Maori guy scanning all dogs – 3 vehicles – scanned, photographed, videoed, vet checked each dog making notes re BCS, examined ears (no otoscope), teeth & gums, coat, felt each dog all over, all females stomachs were extensively palpitated to feel if there were any pups, checked to see if in season.
08.10.2019 SPCA Visit Lori Davis, E O'Malley, K Wright, Robbie Lloyd, Mike Loulanting, 2 Police Officers from Pukekohe called by Lori Davis, scanned all dogs microchips – 3 vehicles, photographed, videoed, vet checked each dog making notes re BCS, examined ears, teeth & gums, coat, paws, stretched and pulled the back legs out and the front legs forward, felt each dog all over, all females stomachs were extensively palpitated to feel if there were any pups, checked to see if in season, comments on sloping backlines of individual dogs.
16 December 5 dogs unlawfully taken in 2019 returned by Tracy Phillips the head inspector of the RNZSPCA there has never been an explanation as to why those dogs were taken and why there was no documentation
The name has now been changed to the RNZSPCA when we know that the initial action was by the Auckland spa a different organisation all together but next week will prove interesting thee will be perjury and we need to ask why so much pressure is being put on Janine and Barbara to enter a plea of guilty when they are not .
I would not be supporting them if I did not believe in them I have been to their farm I have seen their dogs and for a cat lady I am impressed this is all about taking high value dogs I am sure that some have bene sold overseas where they would fetch significant sums
To me it seems odd that they allegedly abused their most valuable stock everything reeks of a dog snatch as evidenced by senator Malcolm Roberts
The change in structure and the lack of supervision of the inspectors and their ability to ignore the bill of rights has to be of concern . the mere fact that the prosecution charges were filed in the name of a fictional organisation has to bring about questions of supervision and over sight

The bill of rights is applicable to the SPCA and they have a duty to comply with it
Everything in this scenario is about an old lady who has quality pedigree dogs and the inspectors seeing a way to take them from her. Reid and Plowright have left the RNZSPCA and Tracy Phillips left not long after she returned the 5 dogs in 2019 I am certain that she could see what was wrong.
I therefore ask for an investigation into the SPCA , this is not the only matter like this there are others and this must not be allowed to go on .
While we are on the subject of identity fraud and in view of new evidence it is time for an other post the video below is a must see and the site https://www.malcolmrobertsqld.com.au/is-the-rspca-a-charity-or-a-dodgy-business/ worthy of a visit
when I heard the video and read the site I recognized it immediately as the identical tactics that are being used here in New Zealand.
I have been helping out two ladies one in her late 80s the other in her mid 60s mother and daughter . Mum has been breeding dogs since the 1960s. they have / had valuable imported stock and regularly won trophies etc for best dogs .
Both are now before the court charged cumulatively with some 80 charges Not by the RNZSPCA but by Kevin Plowright of the

Interestingly and as an aside Anita Killeen was a director of the Auckland SPCA, who employed Plowright the inspector who seized a multitude of healthy dogs from the ladies after first consulting with dogs NZ for their pedigrees and the council for their microchip numbers. the dogs were selectively taken like kids in a candy shop.
The lawyer instructed is a crown solicitor and representations for this private prosecution and being portrayed as though it is a crown prosecution . This is totally contrary to the crown solicitors terms of office item 16 this is from an intituling used on the court file
Anita Killeen in an interview with the New Zealand animal law society
But they have failed to check the legal existence of their alleged client
and the prosecution had been taken in the name of a fictional entity when all indications are that the entity which took the dogs in 2017 and did not file charges until December 2018 was

The ladies have been made out to be a Puppy farm . gross atrocities occurred but not of their doing
Dogs were seized and left locked in the back of a van in the souring heat and without water by the SPCA
dogs allegedly ill were seized and placed in the pound for two weeks before a vet saw them
a dog known to be in whelp was xrayed one birthed in a crate in the back of a van while being transported while in labour .
Pups born to two of the dogs 20 in all were not legally seized and unlawfully disposed of
The article https://www.malcolmrobertsqld.com.au/is-the-rspca-a-charity-or-a-dodgy-business/ is so on point that it could have been written about these ladies whose lives and passion for showing quality German shepherds has been destroyed
We have already made a complaint to the police but when you have crown solicitors involved and an organisation such as the SPCA who would believe two ladies who have been made out to be villain's.
This is not about animal welfare this is about whole sale abuse of Humans
Thank you so much senator malcolm Roberts your on to it .
FYI request

Dear Ministry for Primary Industries,
IN November 1999 Neil Wells who has now been acknowledged to have been a corrupt lawyer , made an application for the coercive law enforcement powers provided by the animal welfare act.
Neil Wells had drafted and advised on the legislation and basically wrote it to facilitate his own business plan see here http://www.anticorruption.co.nz/wp-conte…
He made a fraudulent application claiming legal existence of AWINZ your own records prove that on 1 may 2007 MAF recognized that AWINZ had no legal existence http://www.transparency.net.nz/wp-conten…
MAF had entered into a MOU with AWINZ http://www.transparency.net.nz/wp-conten… as if it was a body corporate in its own right
Evidence that it was not a body corporate is found here http://www.transparency.net.nz/wp-conten….
In 2006 I reported to MPI that AWINZ had no legal standing as an entity . MAF did nothing except be obtrusive and believe Neil Wells , MPI has continued to be obstructive, I personally attribute this to the conflict of the chief legal officer who was a crown solicitor at the time of the application and failed to check the legal standing of AWINZ , hence and investigation into AWINZ would highlight his oversight at the time http://www.transparency.net.nz/wp-conten…
I realize that I have had all the documentation and the documentation that I have proves that MAF and now MPI condoned this public fraud and allowed a fictional organisation to continue to administer animal welfare law on the public
By way of OIA I would like to know the legal means by which the MPI can condone fraudulent applications for approved organisations and how it possibly thought that an organisation which did not exist and had no evidence of existing could possibly have responsibilities to the criteria provisions of the act.
I further request all documents in which MPI consider the consequences of contracting to a undefined name and discussions where by a decision was made not to investigate this public fraud and conceal it
If MPI considered that this was not fraudulent then I would like to see all documentation which they relied on that proved that AWINZ had legal existence
The situation is ironically that AWINZ could not have got a bank loan for $10 yet MAF gave it coercive public law enforcement powers. While this is bad it does not compare to the 15 years of the concealment of this corruption by failing to investigate the fraudulent application
The public need to have confidence in the MPI and this fraud has been ignored for too long, I am still under attack by one of the lawyers who was instrumental in the initial cover up I am a whistleblower and want the attack on me to stop by getting the government department which had responsibility to the public to act responsibly .
The manner in which AWINZ had been dealt with brings into question
the competency of MPI to supervise the one and only approved organisation which now has a changed constitution and appears to be acting in conflict of interest and using their inspectorate to promote the interests of animal welfare activists .
Yours faithfully,
Grace Haden